"Brother, daily I see signs of our beloved hospital's decay. The physicians who own it do not have the time or the inclination to both treat their patients and run a business, and as a result we all suffer. I hear whispers that some of the other nurses, and even a few of the physicians, hope to have a religious order take over the administration. We both know the Sisters of Mercy could solve the hospital's problems while ensuring the patient's needs are met with compassion. The Sisters in Fort Scott have already expressed interest in the hospital. Please, I beg you, brother, do what you can to help us in this matter."
Sister Mary Matthew McNeill, a Sister of Mercy and private duty nurse at West Side Hospital in Independence, Kansas, surely communicated with her brother Joseph McNeill, an influential Independence businessman. After hearing of the hospital's plight, Joseph enlisted the guidance of Rev. M.J. Casey and the two met with the physicians to propose future administration by the Sisters of Mercy. The physicians were relieved by the solution, which seemed to resolve their problems.
A short time later, Mother Mary Francis deSales Connelly, superior of the Kansas Sisters of Mercy, was ushered into a rich, dark paneled boardroom for a frank discussion with the hospital shareholders. The physicians presented the Sisters with an honest assessment of the hospital – good and bad – and took them on a tour. Although it needed scrubbing and could use a few coats of paint, Mother deSales was pleased with what she saw and agreed to move forward with the purchase.
On March 1, 1927, Mother deSales braced herself against the bitter wind driving heavy snow hard against her skin and made her way to the hospital. It was an important day; she could not be late. Just after lunch, she presented the physicians with a check for $35,000. In that moment, it became a non-profit institution known as Mercy Hospital.
Under the welcoming policy of the Sisters, Mercy Hospital quickly became known for its superior admitting privileges, attracting more physicians and patients than its 35 beds could accommodate. Today it is a 58-bed acute care hospital serving Independence and surrounding communities.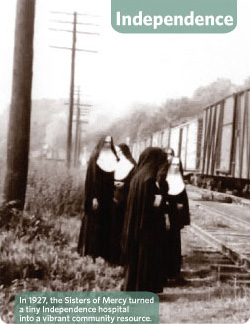 About Mercy