The carriage rumbled to a stop outside a small frontier town somewhere in eastern Kansas. Sister Mary Teresa Dolan and Sister Mary Bonaventure Fox, grimy and exhausted from the long journey begun in Big Rapids, Michigan, were eager for rest.
A charismatic priest approached as they disembarked and offered them a place to stay. As they walked to the church for Sunday Mass, Rev. Francis J. Watron regaled them with tales of the fine weather in Kansas – which he said was even better than in their final destination, Los Angles.
But, the needs of this town were serious. The rough and tumble pioneer children they'd seen playing on the side of the road were in desperate need of education; their future depended on it. Parents were either too busy farming or mining to teach them or were uneducated themselves.
The Sisters were greatly moved by his words and resolved then and there not to continue on to California. Instead, they returned to Michigan to request permission to start a school in Fort Scott, Kansas.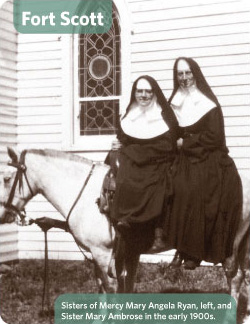 Meanwhile, Father Watron prepared for the Sisters' return. City leaders had decided a hospital was the town's greatest need – they hadn't had one in 30 years, and the closest was 90 miles away. He hoped the Sisters wouldn't be too upset to find a 12-bed hospital, rather than a schoolhouse when they returned.
Mother Mary Teresa Dolan and Sister Mary Dolores Drew returned to Kansas on April 26, 1886. They barely blinked an eye at their change in assignment. Both had previous nursing experience in Big Rapids, so they were at home with organizing and opening the new hospital, which quickly filled to capacity.
Today, Mercy Health Center is a 69-bed acute care hospital bringing together a full continuum of services under one roof, previously spread across town.
About Mercy