Donn Sorensen currently serves as executive vice president of operations for the health ministry and as regional president of Mercy's West Communities. His prior roles include regional president of Mercy's East region, vice president/COO of Mercy Clinic in the east Missouri region and various leadership roles supporting Mercy's physician organization in southwest Missouri. Prior to Mercy, he was with Premier Practice Management (a national practice operations organization), several specialty and multispecialty groups in Nashville, Tennessee, and Baton Rouge, Louisiana, and the Mayo Clinic in Rochester, Minnesota.
Donn earned a master's in business administration from Missouri State University and serves as board chair for the American Medical Group Association.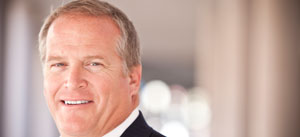 In the News
Covenant House's Executive Sleep Out

In an effort to raise awareness and funds for Covenant House Missouri, and to bring hope to homeless youth throughout the St. Louis metropolitan area, Mercy's Vice President-Operations Donn Sorensen, along with other business and community leaders participated in an Executive Sleep Out event in 2013. "It was an eye opening experience," Sorensen said. "To know what these kids go through every night makes me thankful that there's a resource like Covenant House available to them."
Sorensen Elected Chairman of American Medical Group Association
Donn E. Sorensen, president of Mercy's east Missouri region, began a one-year term as chair of the American Medical Group Association (AMGA) board of directors on January 1, 2016. The AMGA represents medical groups and organized systems of care, including some of the nation's largest, most prestigious integrated health care delivery systems.
Serving on AMGA's board of directors since January 2008, Sorensen has held the positions of treasurer and chair-elect. AMGA's board of directors is composed of five officers and 11 at-large directors who serve three-year terms.