June 9, 2010
New Decontamination Technology Reduces Dangerous Pathogens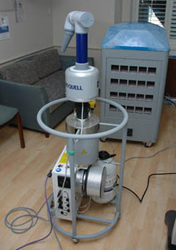 St. John's Mercy Medical Center is leading the way to protect patients from dangerous hospital-acquired infections using a unique hydrogen peroxide vapor decontamination technology (Bioquell®) in patient rooms.
St. John's Mercy was the third hospital in the country to have an embedded team of technicians for implementation of such technology, and the first hospital in the nation to apply it systematically to patient rooms throughout its facility, even in the absence of any outbreaks.
The hydrogen peroxide vapor has proven biological effectiveness against a wide range of healthcare-associated pathogens with potential wide-spread environmental contamination, including methicillin-resistant Staphylococcus aureus (MRSA), Clostridium difficile, vancomcin-resistant enterococci (VRE) and many multi-drug resistant organisms such as Acinetobacter baumannii complex.
The procedure entails instilling hydrogen peroxide vapor into tightly sealed vacated rooms with constant monitoring to ensure effective disinfection and safety. The entire process is usually completed within three hours.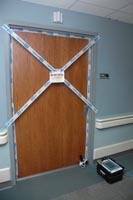 Recent studies performed at the St. John's Mercy and presented in March 2010 at the Fifth Decennial International Conference on Healthcare-Associated Infections in Atlanta supported the effectiveness of vaporized hydrogen peroxide disinfection in rendering rooms free of Acinetobacter baumanni complex and MRSA.
"Since persistent environmental contamination with these bacteria may be a potential source of infection to newly admitted patients, we asked ourselves what else can we do to disinfect hospital rooms better and help our patients navigate safely through our system of care without unnecessarily exposing them to a new risk of infection," said Dr. Farrin A. Manian, the lead investigator of the studies and chief of Infectious Diseases at St. John's Mercy.
"We didn't want to wait for an outbreak before acting on this problem."
James Salkeld, head of Bioquell's healthcare division, said, "Of the increasing number of hospitals now using Bioquell's technology, none has facilitated the implementation of the technology with the same speed and efficiency as St John's Mercy."
Dr. Manian added, "I think we should raise the bar of hospital room cleaning and disinfection from what may look and smell clean to what is truly clean and disinfected. I call the hospital room the neglected "H.A.N.D.," or Hospital Area in Need of Disinfection, that needs due attention to its proper hygiene before a new patient moves in. Washing or disinfecting hands before and after touching patients is important but this may not be enough."
Media Contacts