April 15, 2011
By Mercy's Bethany Pope
For the first time in our nation's history, children can expect to live shorter lives than their parent's generation. The U.S. Centers for Disease Control continues to publish shocking statistics that paint a gloomy picture of our children's future health. To help reverse the tide, Sisters of Mercy Health System is committing $5 million over five years for health education in schools in Kansas, Missouri and Oklahoma.
"This is evidence that Mercy really cares about our children and our communities," said Pam Brown, Fort Scott, Kan., middle and high school nurse. "It's a great collaboration between Mercy and school districts. Mercy recognizes the health issues in our communities."
It's also a huge boon for school administrators who are being asked to do more with less.
"In a time of budget reductions and tight funding, this will help improve education in our schools at no cost to our school districts," said Kevin Stinson, superintendent of Wilson Public Schools in Wilson, Okla. "We greatly appreciate the resources this offers us."
Mercy selected HealthTeacher, a health literacy program, because it is a worldwide provider of online health lesson plans and resources focused on improving health from kindergarten through 12th grade. For more than a decade, HealthTeacher has been used with great success in some of the nation's largest school districts. Mercy's partnership is a first for HealthTeacher – partnering with an entire health system. More than 100 school districts, representing 370,000 students, have already signed on in the three-state area.
"Schools are hungry for this because school budgets continue to shrink across the country and anything outside of what schools are required to test for gets cut first," said Lynn Britton, Mercy president and CEO. "While our children must have a knowledge of the basics, it's critical we also educate them on how to lead healthy lives."
Aligned with the National Health Education Standards, the HealthTeacher curriculum focuses on health, nutrition, mental health, injury prevention, as well as on the dangers of tobacco, alcohol and drug use. HealthTeacher lesson plans also cross-align to other subjects, so that all teachers can teach health, not just health and physical education teacher.
"So if you live in Oklahoma and your community is struggling with obesity, teachers can use HealthTeacher to access lesson plans to teach kids the importance of good nutrition and physical activity," said Scott McQuigg, HealthTeacher CEO. "Or if you live in Missouri, and your school wants to address the emotional health issues of bullying, teachers can access lessons about conflict resolution and interpersonal communications."
At full steam – with teachers trained and schools engaged – Mercy's $5 million commitment spread over five years could ultimately impact 800,000 students across the three states. That's 800,000 students who will have the opportunity to learn how to lead healthier lives.
"Just 20 or 30 years ago, you could smoke on a plane, at the office, in public buildings and at most restaurants," said Robert Bergamini, M.D., pediatric oncologist at Mercy Children's Hospital in St. Louis. "Today, because of a focused effort to educate young Americans about the dangers of smoking, it has become less and less common to see adults smoke anywhere. The tide has completely turned. Education worked to reduce smoking; it can do the same to improve children's health."
Mercy identified an on-line health education program with teaching resources after hosting community roundtable sessions in each of the 28 communities Mercy serves. During those roundtables, civic and business leaders echoed the growing need to educate our children about health.
"We are not just initiating a program then backing away," said Britton. "We are in this for the long haul to ensure this takes root with our children. Like the Sisters of Mercy before us, we not only respond to the needs of the community but we see them through to fruition."
Supplemental Materials
News Release
MyMercy Photos for Media Use

01 – Rhonda Hoener, West Bourbon Elementary Counselor in Uniontown, Kan., discusses nutrition with students (left to right) Blair Rockhold, Danielle Nading, Luke Davis and Hayden Miller using resources from the HealthTeacher literacy curriculum. Sisters of Mercy Health System is funding a $5 million, five-year program so many school districts will have free, online access to health and wellness lesson plans for kindergarten through 12th grade.

                     Download Hi-Res Image

02 – Valley Park Elementary teacher Mike Menley teaches students in suburban St. Louis about the skeleton. Sisters of Mercy Health System is funding a $5 million, five- year program so many school districts will have free, online access to health and wellness lesson plans for kindergarten through 12th grade.

Download Hi-Res Image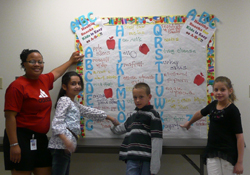 03 – Valley Park Elementary teacher Latonya Davis and her students point to their favorite healthy snacks. Sisters of Mercy Health System is funding a $5 million, five- year program so many school districts will have free, online access to health and wellness lesson plans for kindergarten through 12th grade.

Download Hi-Res Image

04 – Valley Park High School teacher Angie Buckman works with students in the suburban St. Louis school. Sisters of Mercy Health System is funding a $5 million, five- year program so many school districts will have free, online access to health and wellness lesson plans for kindergarten through 12th grade.

Download Hi-Res Image

05 – Rhonda Hoener, West Bourbon Elementary Counselor in Uniontown, Kan., discusses nutrition with Luke Davis (left) and Hayden Miller (right) using resources from the HealthTeacher literacy curriculum. Sisters of Mercy Health System is funding a $5 million, five-year program so many school districts will have free, online access to health and wellness lesson plans for kindergarten through 12th grade.

                     Download Hi-Res Image

06 – Rhonda Hoener, West Bourbon Elementary Counselor in Uniontown, Kan., discusses nutrition with students (left to right) Blair Rockhold, Danielle Nading and Luke Davis using resources from the HealthTeacher literacy curriculum. Sisters of Mercy Health System is funding a $5 million, five-year program so many school districts will have free, online access to health and wellness lesson plans for kindergarten through 12th grade..

                     Download Hi-Res Image

07 – Rhonda Hoener, West Bourbon Elementary Counselor in Uniontown, Kan., discusses nutrition with students (left to right) Blair Rockhold, Hayden Miller, Danielle Nading and Luke Davis using resources from the HealthTeacher literacy curriculum. Sisters of Mercy Health System is funding a $5 million, five-year program so many school districts will have free, online access to health and wellness lesson plans for kindergarten through 12th grade.

                     Download Hi-Res Image

08 – Students at West Bourbon Elementary (left to right) Blair Rockhold, Luke Davis, Hayden Miller and Danielle Nading are guided by fifth grade teacher Kendra Perry to learn about injury prevention using resources from the HealthTeacher literacy curriculum. Sisters of Mercy Health System is funding a $5 million, five-year program so many school districts will have free, online access to health and wellness lesson plans for kindergarten through 12th grade.

                     Download Hi-Res Image

09 – Plainview Elementary students Madison Piggee (left), Justin Keen (background) and Ben McKay (right) doing their homework in Tina Pyles' first grade class. Plainview Schools in Ardmore, Okla. will be one of several school systems in southern Oklahoma to take advantage of the HealthTeacher curriculum.

Download Hi-Res Image

10 – Ben McKay reads a book in Tina Pyles' first grade class at Plainview Elementary in Ardmore, Okla. Plainview Schools will implement the HealthTeacher curriculum with the 2011 - 2012 school year.

Download Hi-Res Image
11 – Neda Fatima, student in Tina Pyles' first grade class at Plainview Elementary, along with her fellow classmates, will benefit from the HealthTeacher curriculum in the fall. The Sisters of Mercy Health System made a $5 million investment for a five-year program for area schools.

Download Hi-Res Image

12 – Plainview Elementary students Brinkley Campbell (left), Emma Moore (center) and Sydney Casey (right) sit in the reading barn in Tina Pyles' first grade class. Teachers at Plainview Schools will be trained on how to use HealthTeacher over the summer so they can implement it into their curriculum for the 2011-2012 school year.

Download Hi-Res Image
Media Contacts