August 6, 2012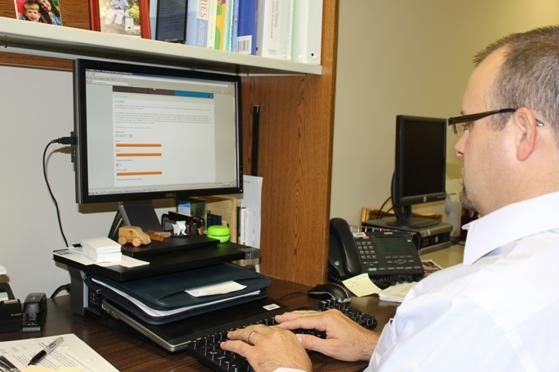 Updated February 5, 2014
CENTRAL, U.S. – The grief of losing a loved one, anxiety after receiving a frightening medical diagnosis, worry over caring for an aging parent – these aren't necessarily medical problems but they are certainly spiritual ones. Now Mercy patients have an additional place to turn when they need spiritual care alongside physical care. It's called e-chaplaincy, and it allows patients and their families to reach out to chaplains for prayer and support via email.  
"For someone who is up at 3 a.m. worrying or unable to break away from work to schedule an appointment, e-chaplaincy allows them to reach out at their convenience," said Julie Jones, executive director of mission and ministry at Mercy. "We want to make sure our patients have spiritual support at all times."
Getting in touch with a chaplain is as easy as logging on to MyMercy.net, going to the message center and clicking on "contact a chaplain" or by sending an email to a chaplain through mercy.net. Patients will then be able to correspond via email or request a phone call. Strict confidentiality is maintained at all times but keep in mind email is not always a secure method of communication so personal details should be kept to a minimum.  
"It's amazing to me how many people say they could never talk about these things face-to-face," said Ken Potzman, director of pastoral services at Mercy Hospital St. Louis, where they have already piloted e-chaplaincy. "People say it's much easier to reach out over the Internet. It seems to be where our society as a whole is going with social networking. And if that's the case, we need to extend our reach beyond the walls of the hospital to provide spiritual care where people are most comfortable."
Some of the issues chaplains address from a spiritual and emotional perspective include:
Grief/loss
Relationship issues
Loneliness
Stress
Managing change
Life balance
Spirituality and growth
Health issues and coping
Finding a support group
E-chaplaincy is not a professional counseling service. Instead, one of Mercy's trained chaplains can offer practical advice at times of change and challenge, a listening ear, and prayer and support. There are 12 trained e-chaplains across Mercy with plans to expand the service as needed.
"In time, we also hope to be able to video chat with patients in clinic locations," said Potzman. "Today, more of Mercy's patient interactions are in clinic settings than in the hospital. However, it's often difficult for patients to wait at a location until we can arrive to meet them. Video chat will allow us to respond to requests quickly."
E-chaplaincy is now available to patients in all Mercy communities in Arkansas, Kansas, Missouri and Oklahoma.
Mercy is the sixth largest Catholic health care system in the U.S. and serves more than 3 million people annually. Mercy includes 31 hospitals, nearly 300 outpatient facilities, 38,000 co-workers and 1,700 integrated physicians in Arkansas, Kansas, Missouri and Oklahoma. Mercy also has outreach ministries in Louisiana, Mississippi and Texas. 

Coverage

Media Contacts