May 1, 2012
Raising awareness about services and honoring those who care for kids May 1
By Kate Miller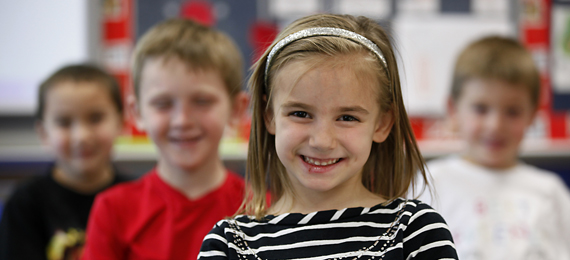 From opening a new children's hospital to pediatric telemedicine advancements and first-time neonatal intensive care research, Mercy's Day of the Child is more than a celebration. It's Mercy affirming its ongoing commitment to excellence in children's health.
"Caring for children is much different from caring for adults, which is why we have specialized services. We provide exceptional care for common illnesses to rare childhood diseases, and Mercy does it in the most comforting, compassionate way," said Dr. Joseph Kahn, president of Mercy Children's Hospital services. "May 1 is Mercy's Day of the Child. On this day – all across Mercy – we celebrate our children, honor those who care for them and renew our commitment to their health. We also thank our communities for their support and the privilege of caring for their children."
Mercy has been taking care of kids since 1827. Mercy's founder, Catherine McAuley, began her healing ministry by serving the sick and poor children and women in Dublin, Ireland. McAuley couldn't have imagined how highly specialized Mercy would become in caring for children. A few examples include:
Telemedicine for kids
Using telemedicine, Mercy is making it possible for families in rural areas to stay close to home and still have access to a pediatric specialist. About six months ago, Loren Kelly, 2, traveled from Springfield to St. Louis where she was diagnosed with myoclonic absence epilepsy and prescribed medication for seizures. Now in need of a follow-up visit, she will again see Dr. John Mantovani, a pediatric neurologist based at Mercy Children's Hospital in St. Louis. This time though, she and her parents won't have to make the drive from their home in Springfield. Instead, they will be in an exam room at Mercy Hospital Springfield.
"I decided to use this service because it saved me from having to take a day off work to make the drive to St. Louis," said Loren's mom, Vanessa. "This service also saves me around seven hours of time spent driving with a 2-year-old for a 20-minute doctor's visit, not to mention saving money on gas."
With more than 30 Mercy hospitals across four states, half of which are in rural communities, Mercy's telemedicine program gives patients access to highly specialized medical care otherwise unavailable in their towns. "There's a great need and it's in Mercy's mission to extend this state-of-the-art technology to our smaller, rural communities," said Dr. Tim Smith, vice president of research for Mercy's Center for Innovative Care.
Researching better ways to care for babies
In the neonatal intensive care unit (NICU) at Mercy in Oklahoma City, Mercy is conducting first-time research with a "vein viewer" to start IVs more easily in tiny newborns and save them from the discomfort of multiple needle sticks.
"Babies in the NICU have arms and hands smaller than their parents' fingers and that makes it extremely difficult to find a vein," said Michele McEver, NICU nursing manager. "With this technology, we save our babies from unneeded pain."
To reduce needle sticks, Mercy uses a vein viewer, a light that improves external visibility. Mercy's research will provide needed proof that vein viewers can dramatically decrease needle sticks for the tiniest patients.
A new children's hospital
In Springfield, a renovation and redesign of Mercy Children's Hospital will add new services quickly in phases, to an already wide range of care. The hospital will break ground on May 1 to coincide with Day of the Child. The Level III Neonatal Intensive Care Unit, a pediatric intensive care unit, advanced pediatric trauma center and dedicated burn unit will be joined by a 10-bedroom Ronald McDonald House for visiting families. This convenient center for pediatric care is designed for future growth and new technologies.
"This facility will provide beautiful new space for our children's hospital programs and will give us capacity to grow," said Dr. Elizabeth Andrews, Mercy Clinic pediatrician and co-chair of pediatrics. "Mercy Children's Hospital Springfield has been the pioneer of critical care, oncology, surgery, neurosurgery, endocrinology and ophthalmology for pediatric patients in this region, and we look forward to offering our line of subspecialties in this great space that kids will love."
For the youngest cancer patients, a newly redesigned cancer treatment center is being constructed. Parents of these patients were asked to offer feedback and suggestions about the best environment for their children's treatments.
"By listening to our patients and those taking care of them, we were able to modify the design of the Springfield cancer center," said Cindy Beckham, who oversees facility design for Mercy. "We've built in choice for these kids – choice in where they sit, what they do during treatment and in how much they want to interact that day."
Day of the Child will be celebrated locally across communities Mercy serves in Arkansas, Kansas, Missouri and Oklahoma.
Media Coverage
Media Contacts
Sonya Kullmann
Branson, Cassville, Lebanon, Mountain View, Rolla, Springfield, Aurora