January 18, 2013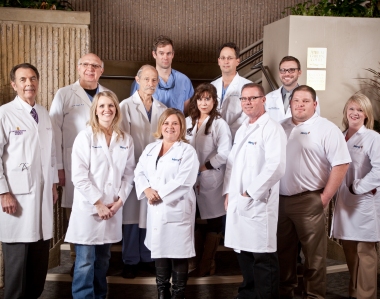 OKLAHOMA CITY – Mercy Hospital Oklahoma City's NeuroScience Institute is the first center in Oklahoma and one of only 15 hospitals in the nation to be certified as an Advanced Comprehensive Stroke Center by the Joint Commission and American Heart Association/American Stroke Association.

What does this Advanced Comprehensive Stroke Center Certification mean to patients? It means Mercy has been recognized by the U.S. health care industry's most thorough standard-setting organization for having staff, equipment and processes that meet the highest levels of stroke prevention, detection, treatment and rehabilitation.
"With stroke, everyone knows minutes matter. What people might not know – or think about when stroke happens – is where they should go for their best chances of recovery," said Dr. Richard Vertrees Smith, neurosurgeon and Mercy NeuroScience Institute medical director. "We're hoping this certification gives us the opportunity to help people in Oklahoma understand that the nation's highest quality stroke care is right here at home, at Mercy."
The process for earning this status started back in 2008, when Mercy earned its first stroke center accreditation from The Joint Commission – the nation's oldest and largest accrediting body in health care – and didn't stop there. After a demanding application process, Mercy underwent a rigorous onsite review in October 2012, when Joint Commission experts surveyed compliance with standards including advanced imaging capabilities, 24/7 availability of specialized treatments and staff with the unique education and competencies to care for complex stroke patients.
"Our stroke team has been devoted to this process for years," said Jim Gebhart, Mercy Hospital Oklahoma City president. "They've coordinated the efforts of hundreds of doctors, nurses, technicians and educators to develop one of the leading stroke programs in the United States."
Mercy joins Cedars-Sinai Medical Center, in Los Angeles, Ronald Reagan UCLA Medical Center, also in Los Angeles, and Stanford Hospitals and Clinics, in Stanford, Calif., on the elite list of 15 hospitals receiving this accreditation in the U.S.
"By achieving this advanced certification, Mercy has thoroughly demonstrated the greatest level of commitment to the care of its patients with a complex stroke condition," said Mark R. Chassin, M.D., FACP, M.P.P., M.P.H., president, The Joint Commission. "Certification is a voluntary process and The Joint Commission commends Mercy for successfully undertaking this challenge to elevate the standard of its care for the community it serves."
For more information on The Joint Commission and American Heart Association's Advanced Certification for Comprehensive Stroke Center visit http://www.jointcommission.org/ or www.heart.org/myhospital.
Mercy Hospital Oklahoma City is a 380-bed hospital where 2,800 co-workers provide services including Level-III neonatal intensive care, robotic surgery, cancer care, interventional radiology and clinical research. Mercy is the sixth largest Catholic health care system in the U.S. and serves more than 3 million people annually. Mercy includes 32 hospitals, 300 outpatient facilities, 38,000 co-workers and 1,900 integrated physicians in Arkansas, Kansas, Missouri and Oklahoma. Mercy also has outreach ministries in Louisiana, Mississippi and Texas. For more about Mercy, visit www.mercy.net.
Founded in 1951, The Joint Commission seeks to continuously improve health care for the public, in collaboration with other stakeholders, by evaluating health care organizations and inspiring them to excel in providing safe and effective care of the highest quality and value. The Joint Commission evaluates and accredits more than 20,000 health care organizations and programs in the United States, including more than 10,600 hospitals and home care organizations, and more than 6,600 other health care organizations that provide long term care, behavioral health care, laboratory and ambulatory care services. The Joint Commission also certifies more than 2,400 disease-specific care programs such as stroke, heart failure, joint replacement and stroke rehabilitation, and 400 health care staffing services. An independent, not-for-profit organization, The Joint Commission is the nation's oldest and largest standards-setting and accrediting body in health care. Learn more about The Joint Commission at www.jointcommission.org.
The American Heart Association/American Stroke Association is devoted to saving people from heart disease and stroke – America's No. 1 and No. 3 killers. We team with millions of volunteers to fund innovative research, fight for stronger public health policies, and provide lifesaving tools and information to prevent and treat these diseases. The Dallas-based association is the nation's oldest and largest voluntary organization dedicated to fighting heart disease and stroke. To learn more or to get involved, call 1-800-AHA-USA1, visit www.heart.org or call any of our offices around the country.
###
Media Contacts
Meredith Huggins
El Reno, Guthrie, Kingfisher, Oklahoma City, Watonga