October 22, 2013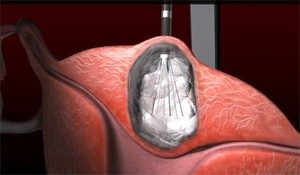 Doctors at Mercy Hospital St. Louis can now offer women with fibroids a new, minimally-invasive outpatient treatment option for all fibroids within the uterine wall. Mercy was the fourth hospital in the US and the first in the Midwest to offer this procedure.
Approved by the FDA in Nov. 2012 for women ages 35-50 who are finished bearing children, the AcessaTM procedure uses a technology called radiofrequency ablation destroying fibroids by applying energy through a small needle. It leaves the surrounding tissue unaffected allowing the destroyed tissue to be completely reabsorbed.
Dr. David Levine, OB/GYN with Mercy Clinic Minimally Invasive Gynecology, participated in the clinical trial for Acessa, performed the first cases at Mercy and is now training physicians across the country on the new procedure.
Fibroid symptoms can range widely from no symptoms to heavier than normal menstrual flow and bloating to severe uterine bleeding and pelvic pain, cramping, constipation, nausea and a need to urinate without being able.
"This is the fibroid treatment patients and physicians have been waiting for," Dr. Levine said. "It will change the way women think about fibroid removal since they often live with symptoms rather than have major surgery."
In traditional fibroid surgery, layers of healthy tissue are cut through to gain access to the tumor or to remove the uterus entirely. This can lead to complications, significant pain and long recovery times. Acessa treats just the fibroids, preserving the normal function of the uterus. Patients typically go home the same day with little pain and are back to regular activities in five days or less.
Mercy Hospital St. Louis, part of Mercy's east Missouri region, is a 979-bed comprehensive teaching hospital. The 80-acre site houses a nine-level heart and vascular hospital, a cancer center; a comprehensive children's hospital; a surgery center; and a 120-bed skilled nursing center.
Story Covered by:
Media Contacts
Bethany Pope
St. Louis, St. Charles, St. Louis - South, Troy, Festus