April 10, 2014
Updated August 21, 2014
ST. LOUIS – Since announcing the Mercy Birthing Center in April, more than 80 women began care with Mercy's certified nurse midwives planning births in the Mercy Birthing Center.
As more women choose unmedicated births, many are choosing home births with midwives. Some women want a home-like birth with a midwife and feel more comfortable near a hospital in the event of any complications, leading Mercy to offer an alternative. The Mercy Birthing Center is the area's first in-hospital, low-risk birthing center run by certified nurse midwives. Patients are now being accepted.
Each of the four birthing suites in the Birthing Center will resemble a home bedroom with queen-size beds, showers and large tubs for labor. There will also be a central living room area for family members, a kitchen, a space for childbirth classes and a separate clinical area where patients will visit the midwife each month during pregnancy for prenatal visits.
"We listened to the community and found that many women want a home-like birth with support of a midwife," said Trish Geldbach, vice president of Women's Services at Mercy.  "While natural births are done every day in our Labor and Birth suites, this new Birthing Center will offer women an alternative to birthing at home with the safety net of medical care an elevator ride away."
The Mercy Birthing Center physical location is scheduled to open in early September, so pregnant women interested in birthing with a certified nurse midwife at the new Center can call now to begin appointments with a certified nurse midwife.
Throughout pregnancy, care will be provided by certified nurse midwives, who are masters-prepared advanced practice nurses certified by the American College of Nurse-Midwives. In addition to prenatal appointments with certified nurse midwives, there will be natural childbirth classes offered to learn more about the process as well as nutrition and fitness classes.
"We really focus on nutrition and fitness throughout pregnancy so mom is healthy and strong for the labor and birth process," said Diana Buckwalter, certified nurse midwife and program director for Mercy Birthing Center.
Most mothers and babies will go home with their families four to 12 hours after birth and return for follow-up care a couple days later.
For more information on Mercy Birthing Center, please call 314-251-7955.
Story Covered by: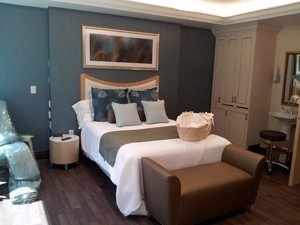 Each suite in the Mercy Birthing Center has a seasonal theme. This suite is winter.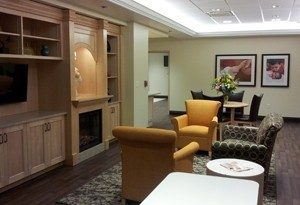 The central living area for families
Media Contacts
Bethany Pope
St. Louis, St. Charles, St. Louis - South, Troy, Festus