October 10, 2014
Identical triplets happen when one egg splits three ways, or splits into two and then one splits again. Pregnancies with a shared placenta have increased risks in addition to risks of a triplet pregnancy. A pregnancy of this type is more likely to encounter problems such as pre-eclampsia, preterm labor and even a placental transfusion syndrome. While identical triplets are rare, research varies on the exact instances, estimates range between one in 60,000 to one in 200 million.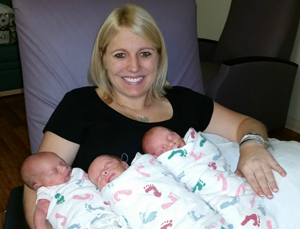 Lindsey Lafferty shows off her identical triplets.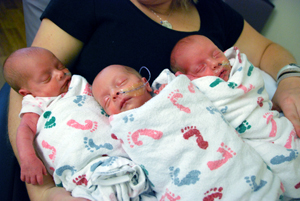 From left: Peyton, Shelby and Olivia
For Lindsey, who spent a couple months on bedrest, the odds don't mean much. She's just happy all three girls are doing well and growing.
On Sept. 20, just eight days before big brother Oscar turned three, the family of three doubled and became a family of six. Peyton, Shelby and Olivia arrived at 31 weeks and five days gestation. Personalities have already started to show.
"Shelby's the feisty one," Lindsey said. "She was in line to be Baby C, but jumped ahead of her sister becoming the middle child. She was even the most active during ultrasounds, always moving more than her sisters."
The babies are expected to spend several weeks in the Emerson Neonatal Intensive Care Unit at Mercy Children's Hospital before they are strong enough to go home.
Mercy Hospital St. Louis welcomed another set of identical triplets in March 2013. Click here to read that story.
Media Contacts