March 18, 2015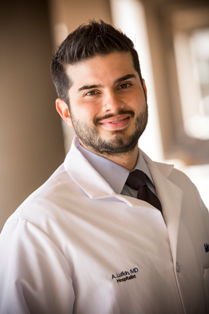 When Ena Whitlock was having trouble breathing, her doctor was 30 miles away and the weather was terrible. That didn't stop him from treating her quickly.
Dr. Ariel Lufkin used Mercy's telehospitalist technology to visit Whitlock remotely. Lufkin, a Mercy internal medicine physician, sees patients using a special cart that has a rotating camera, screen and seamless access to patients' medical records. With the help of a highly trained nurse at patients' bedsides, Lufkin can interact, ask questions, zoom in on problematic areas and even listen to heartbeats through a Bluetooth-enabled stethoscope.
"Just about the full gamut of any diagnostic studies that we would do, I can see here," Lufkin said.
Mercy currently offers telehospitalists at Mercy Hospital Logan County, in Guthrie, Oklahoma, Mercy Hospital St. Louis, Mercy Hospital Joplin and Mercy St. Francis Hospital in Mountain View, Missouri, with plans to expand to other facilities across Mercy's four states.
Whitlock's son, Derrick Avery, was concerned at first that his mother wouldn't take to the technology. His concerns faded away by her second conversation with Lufkin. He had some concerns as well, but they were even more quickly allayed.
"She quickly got over the robot-like oddity and felt relaxed enough to ask questions and have a normal conversation," said Avery, whose mother lives in Guthrie, 30 miles from Oklahoma City. "What is even more important, even though distance did divide them, is that the one-on-one relationship still developed along with the comfort and trust that every patient needs to have in their doctor."
Avery wanted his mother to be seen right away, so taking her out of her community was out of the question.
"When I found out about the telehospitalist program, it took away that apprehension of taking mom to a small-town hospital that may or may not have the specialist she would need to see on staff," he said.
Mercy is moving forward with telemedicine in other specialties as well. It plans to open the world's first virtual care center in Chesterfield, Missouri, later this year. It will serve as Mercy's 24/7 hub for telehealth professionals to reach more patients regardless of age, illness or location -- and employ nearly 300 physicians, nurses, specialists, researchers and support staff. 
Media Contacts
Meredith Huggins
El Reno, Guthrie, Kingfisher, Oklahoma City, Watonga