April 6, 2015
Mercy St. Francis Hospital has won another battle in the war on obesity. Forty-one people accepted the hospital's 12-week "Biggest Loser" challenge in January, losing a combined 341.8 pounds.
The "Biggest Loser" contest followed the hit TV show concept. Teams from across Mountain View weighed in during the three-month period. There were two educational presentations provided by Mercy Springfield during the challenge for contestants.
"It was another great example of Mercy's commitment to keeping the community fit," said organizer Carol Schmidt, nursing administrative assistant at Mercy St. Francis Hospital.
The top team's members lost an average of 4.5 percent body weight; they'll divide a grand prize of $580. The winning individual lost 9 percent of her body weight and will be awarded $290. The Mountain View Elementary Student Council's backpack program is also a big winner, receiving $290 from registration and other donations.
"The backpack program currently serves 18 families," added Schmidt. "They receive non-perishable foods like oatmeal, peanut butter and macaroni and cheese, as well as personal hygiene items."
The winning team and individual will be announced at 12 p.m. Friday, April 3, in the front lobby of Mercy St. Francis Hospital, located at 100 W. Highway 60 in Mountain View. The media is encouraged to attend and meet the winners.
Last year, 57 people accepted the challenge, losing a combined 867 pounds – nearly a half-ton of weight. Five of the contestants continued to weigh-in monthly throughout the summer and either maintained their weight or went on to lose more.
Mercy St. Francis Hospital would like to encourage the year's contestants to continue with their "Life Style" change and invites them to weigh in every month throughout the summer. For more information, call Carol Schmidt at (417) 934-7097.
Winner Cindy Cartwright (left) lost 15 percent of her weight. She received $290.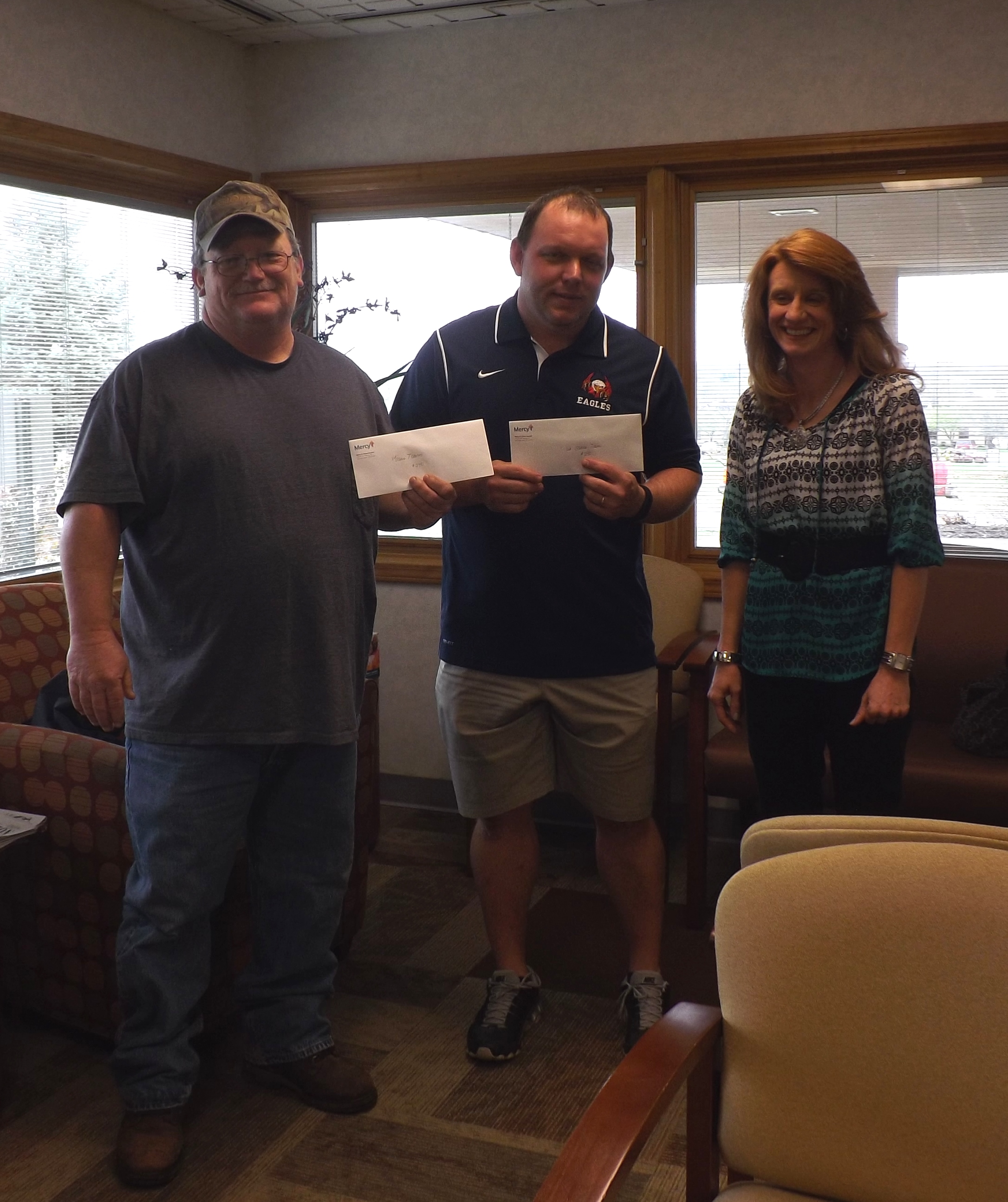 The Mountain View Birch Tree Team (right), which included Michael McAfee and Tom Taylor, lost 9 percent of their weight.