July 23, 2015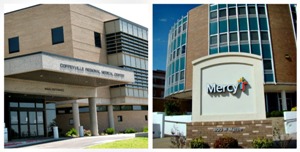 Leaders from Mercy Hospital Independence and Coffeyville Regional Medical Center (CRMC) are now hard at work to establish  a binding agreement after the the two organizations signed a letter of intent for affiliation, culminating several months of discussions. The transaction will involve the transfer of the assets of Mercy Independence to CRMC, and a separate agreement between CRMC and the City of Independence will offer additional incentive funding to help retain health care services in the Independence community.
Mark Woodring, CRMC's chief executive officer, said his board's vote last week to approve the letter of intent demonstrates their foresight and strong support of the affiliation, and he was appreciative of the leadership and commitment of the City of Independence to preserve essential services for the residents of Independence. 
"This is truly a special moment in time for all of us as we work together to position our organizations and communities for the future of medicine," Woodring said. "We are excited to build a rural health delivery model in Montgomery County that ensures our patients and families will have continued access to high-quality services for many years to come."
According to Kim Day, interim leader for Mercy Independence, the letter of intent is an "agreement in principle, subject to final approvals" and provides the framework for the transaction. The letter addresses governance of the combined entity and sets the stage for making decisions on important operational considerations, such as which health services will be retained on the Independence campus and how co-worker payroll and benefits will be handled.
"This is the starting place," Day said. "From here, the real work begins to prepare a definitive agreement, operationalize the plan and create a transition that is as smooth as possible for our patients, co-workers, providers and communities."
While signing the letter of intent is the first step in the affiliation process, parties expect the transaction to move along fairly quickly, with completion anticipated this fall. More detail related to the agreement will be released as it becomes available.