November 17, 2015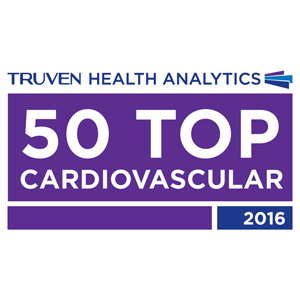 ST. LOUIS - Selected from more than 1,000 U.S. hospitals, Mercy Hospital St. Louis was recently named one of the nation's 50 Top Cardiovascular Hospitals by Truven Health Analytics.TM
The study, now in its 17th year, identifies the nation's best providers of cardiovascular care based on publicly available data and a balanced look at patient outcomes, operational efficiencies and financial metrics. The 50 hospitals selected achieved superior clinical outcomes in this critical area of hospital care. Hospitals do not apply, and winners do not pay to market their honor.
"Our focus is always to provide our patients with the best care so they can get back to living their lives," said Jeff Johnston, Mercy Hospital St. Louis president. "To be selected as a top 50 hospital in cardiovascular care, demonstrates our physicians, nurses, clinicians and the whole team have done their jobs and done them well."
The Truven Health 50 Top Cardiovascular Hospitals study measures performance in key areas: risk-adjusted mortality, risk-adjusted complications, core measures (a group of measures that assess process of care), percentage of coronary bypass patients with internal mammary artery use, 30-day mortality rates, 30-day readmission rates, severity-adjusted average length of stay, and wage- and severity-adjusted average cost. The study has been conducted annually since 1999.
Truven provides key industry insights with an opportunity for a broader national impact for cardiovascular patients, should these results be replicated. In fact, if all cardiovascular providers in the U.S. performed at the level of this year's winners:
Nearly 8,000 additional lives could be saved.
Nearly 3,500 more heart patients could be complication-free.
More than $1.3 billion could be saved.
For the 50 Top Cardiovascular Hospitals study, Truven Health researchers analyzed 2013 and 2014 Medicare Provider Analysis and Review (MEDPAR) data, 2014 Medicare cost reports and 2015 Centers for Medicare & Medicaid Services (CMS) Hospital Compare data.
The winning hospitals were announced in the Nov. 9, 2015, edition of Modern Healthcare magazine.
More information on this study and other 100 Top Hospitals research is available at 100tophospitals.com.
About the Truven Health 100 Top Hospitals® Program
Since 1993, the Truven Health 100 Top Hospitals program has used independent and objective research to guide hospital and health system performance. Organizations do not apply for this honor, and winners do not pay to promote their award.
Award-winning hospitals and health systems prove that better care is possible and provide an example for other organizations to follow across the industry. The 100 Top Hospitals award winners demonstrate top performance on both how patients are cared for through clinical measures and how the hospital performs as an efficient business. 100 Top Hospitals is a registered trademark of Truven Health Analytics. For more information, please visit 100tophospitals.com.
About Mercy Hospital St. Louis
Mercy Hospital St. Louis is an 859-bed teaching hospital that houses a nine-level heart and vascular hospital, a cancer center, a comprehensive children's hospital and a surgery center. Its nine-level heart and vascular hospital is a comprehensive care center, including 96 private inpatient heart care rooms, diagnostic services, cardiovascular operating services, a cardiac catheterization lab, cardiac rehabilitation services, education resources and physician offices.
Media Contacts