December 30, 2015
By Mercy's Brad Haller
Year after year, Mercy's digital connection with patients has been ranked among the nation's best, to the tune of 12 Most Wired™ recognitions by the American Hospital Association (AHA). Now Mercy has achieved a unique achievement atop that list, shared by only a dozen other health systems.
Earlier this year, Mercy made the list for integration and expanded analysis of electronic health records (EHR). Upon further review, the AHA has presented Mercy with the distinction of 2015 Most Wired™ Advanced. The Most Wired™ Survey examines how organizations leverage IT to improve infrastructure, quality and safety, and clinical integration. Advanced organizations take it a step further, improving chronic disease management services for patients at home and also improving upon care that's based typically on medical literature.
"We've raised the bar once again," said Vance Moore, senior vice president of operations at Mercy. "We have put information to work for our patients, physicians and those who support them. Health care is often defined more by variation than precision; yet, as we continue to refine our IT, we have the information and tools to bring insight to physicians and caregivers when they need it most."
That information is used to create "clinical pathways," as they are referred to at Mercy, which are then available for physicians to implement or adjust based on a patient's needs. "This helps us keep learning," Moore said. "We're firm believers that information is the new currency of performance – clinically, operationally and financially."
Mercy began using its EHR in 2008 and its organization, Mercy Technology Services, has recently begun offering EHR and data analytics tools and services to other hospitals that are looking to transition from a focus on higher patient volume to care that helps keep patients healthier and out of the hospital.
Mercy received the 2015 Most Wired™ Advanced distinction alongside Altru Health System; Baptist Health South Florida; Children's Health; Crozer-Keystone Health System; Detroit Medical Center; Emory Healthcare; Geisinger Health System, Genesis Health System; Lakeland (Fla.) Regional Medical Center; ThedaCare; University of California, San Diego Health System; and University of Utah Health Care.
This year's Most Wired™ respondents completed 741 surveys, representing nearly 40 percent of all U.S. hospitals. For a full list of winners, click here.
Mercy Technology Services (MTS) provides and manages technology solutions for Mercy, the nation's seventh largest Catholic health system. Mercy is the first health care provider accredited by Epic to offer a full suite of electronic health record solutions to other hospitals, including Epic in the cloud, implementation and optimization. MTS' award-winning data analytics integrate care delivery, manage costs and support a model of care that keeps patients healthier and out of the hospital. Visit mercytechnology.net.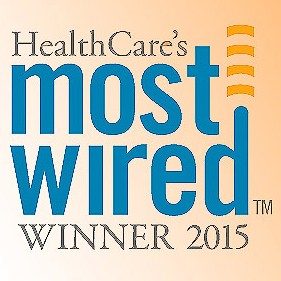 Healthcare's Most Wired 2015
Media Contacts