March 22, 2016
ADA, Okla. - The only thing Anna Ebert regrets about her visit with Brian Parks, a pain management doctor in Ada, is that she didn't see him sooner. Her story starts after a back injury in the early 1970's.
"Ever since then I had been completely numb on the outside half of my right leg," Anna said.
But that all changed more than three decades later, when Anna said her nerves suddenly shot back to life.
"It was like they woke up all of a sudden," she said. "I couldn't sleep. I couldn't sit down comfortably. I was just completely miserable 24 hours a day, 7 days a week."
For months, Anna lived with the pain; hoping and praying that it would soon go away.
"I tried everything. I tried over the counter drugs like Advil and Aleve. I was even on nerve pain medication, but nothing helped," Anna said. "I was determined to not resort to narcotic pain pills. They scared me."
The pain was so bad, Anna, a registered nurse (RN) for 46 years, was forced to quit her job. Finally she went to Dr. Parks.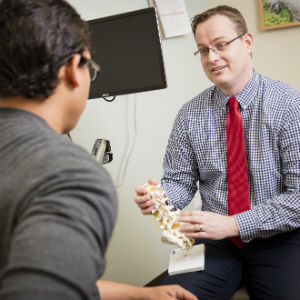 "When Anna first came to me, I could tell she was at the end of her rope," Dr. Parks said. "She was frustrated."
Dr. Parks estimates he's treated hundreds, possibly even thousands of patients like Anna who deal with chronic pain.
"The most common pain I see is back and neck pain," Dr. Parks said.
Rather than prescribing prescription pain medication, Dr. Parks uses a number of different treatments like nerve blocks, electrical stimulation and injections to cure chronic pain. In Anna's case, Dr. Parks decided to perform a caudal epidural, injecting steroids into her lower back. Before the procedure, Anna says she shared a moment with Dr. Parks that she will never forget.
"It was right before the injection," Anna remembers. "That's when Dr. Parks took my hand and told me that if for any reason the procedure didn't work, that we had other options. He told me not to lose hope and that meant so much to me in that moment. He gave me hope when I didn't have any."
Fortunately, the procedure was a success.
"The relief was instant," Anna said, starting to cry. "You don't realize just how bad off you really were until you start to feel good again."
That was in October. Since then, Anna says she has not had a single day of nerve pain in her legs and says she has not had to return to Dr. Parks for another visit. Today, she is back to work per diem as an RN. She's also a proud great-grandmother.
"The pain interfered with so much in my life. I love to cook, I love to bake, I craft, I love on my great-grandbabies," Anna said. "These are all things I had to put on hold for far too long."
"Patients like Anna are the reason why I chose this type of medicine," Dr. Parks said. "I'm grateful and honored that my staff and I were able to give her the relief she needed."
Dr. Parks is at Mercy Clinic Pain Management on 435 N. Monte Vista Street. For more information, call 580-453-3091.
How Much Does Chronic Pain Cost?
According to the American Academy of Pain Medicine, more than 1.5 billion people, almost 5 percent of the population, deal with chronic pain. That's more than Diabetes, Coronary Heart Disease and Cancer combined.
In America, chronic pain costs society at least $635 billion annually, an amount equal to about $2,000 for every person living in the United States.
Overall, workers dealing with pain lost an average of more than half a day of work each week.
Practices
Media Contacts
Lindsey Treadwell
Ardmore, Healdton, Ada, Tishomingo