April 1, 2016
Members of the Columbus Community Foundation gathered yesterday at Mercy Columbus to mark an official donation of $10,000 to the Mercy Health Foundation for a technology upgrade for a Mercy mobile mammography unit. The donation pushes the accelerator on the $125,000 fundraising campaign goal to update the unit with digital imaging.
"We are ready to get back on the road and help the women who trust Mercy for their annual screening," Burke said.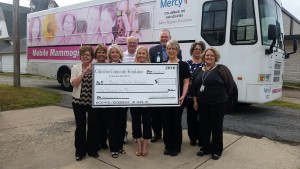 Previously, nearly 1,000 women per year utilized the mobile unit for mammogram screenings, according to Mary Burke, Mercy director of community health. The unit is currently out-of-service until the improvements are complete.
"Clearly, women in rural areas depend on the convenience of Mercy's mobile mammography unit to get their annual screening," explained Angie Saporito, Mercy Columbus administrator. "Without this service, many women may not get this vital and life-saving test."
The upgraded unit is expected to hit the road in October's, just in time for breast cancer awareness month.
"It's a privilege to partner with the Mercy Health Foundation to bring this important service to residents in the Columbus area," said Julie Cassidy, Columbus Community Foundation spokesperson. "Serving the community is our focus and this partnership will be a valuable service to women of our surrounding area"
Mercy, named one of the top five large U.S. health systems in 2017 by Truven, an IBM Watson Health company, serves millions annually. Mercy includes 44 acute care and specialty (heart, children's, orthopedic and rehab) hospitals, more than 700 physician practices and outpatient facilities, 40,000 co-workers and more than 2,000 Mercy Clinic physicians in Arkansas, Kansas, Missouri and Oklahoma. Mercy also has outreach ministries in Arkansas, Louisiana, Mississippi and Texas. 
Media Contacts