April 1, 2016
Parents usually know when something is off with their child, but with babies and young toddlers sometimes parents question their instincts. He's not communicating or speaking, so you think maybe it's because boys talk later. He doesn't want to interact with others, so you think it's the parallel play stage and he will grow out of it.
A diagnosis of autism is a scary thing for parents not only because of what it means for their child, but also because they may not know where to turn for help.
Sarah Trenary and Mackenzie Sider share a special bond; they know what it's like to hear the dreaded words: "Your child has autism."
"A diagnosis of autism always comes as a shock and can lead to feelings of loss for parents," said Dr. John Mantovani, medical director of the Mercy Kids Autism Center. "It's a loss of the childhood parents pictured when thinking about the future for their kids, which is a completely normal emotional reaction."
Trenary's son Billy was diagnosed with autism when he was just 15 months old. She was concerned because he missed developmental milestones like pointing, wasn't communicating like others his age and began refusing food.  One of the biggest challenges was overcoming well-meaning family and friends who suggested he would "outgrow" these issues.
"Once I got over the initial shock and sadness of the diagnosis, I realized I needed support from others who knew what I was going through," said Trenary. "It's not that my friends weren't there for me, but their struggles are what I deal with on a good day."
When Sider's son Charlie, the youngest of five, was just 7 months old she knew something wasn't right when he wouldn't raise his hands and imitate her saying, "Charlie is so big."
"All my other kids picked that up within 15 minutes, but even after a couple months Charlie still wasn't playing along," Sider said. "It started to eat at me like a parasite."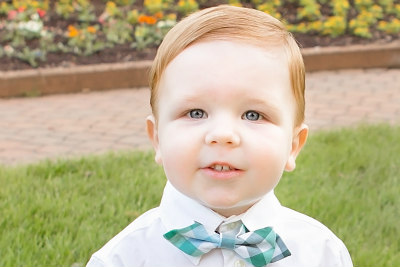 Sider said she still didn't think it was autism because he was smiling and doing things that other typically developing kids do. A few days before he was scheduled to see Dr. Mantovani, Sider realized autism was a reality.
"The therapists were working with him to do a puzzle and he started slapping his hands and rocking back and forth. My heart stopped and I knew," Sider recalled. "We were devastated thinking about his future and how difficult it would be for him. But after a few days we got over it and started making plans."
Both boys participate in Mercy Autism Center's Intensive Early Intervention Program which is based on the Early Start Denver Model of therapy. Their parents have been amazed at how much progress their children have made.
"Billy started the program in early August and the moment he started, he skyrocketed," Trenary recalled. "He has learned the value in communication, that people and other kids are fun and how to express himself."
Sider said Charlie is doing so well he goes to a regular preschool in the morning. "He's a happy child. He's not in his own world anymore and he makes real connections with people."
Dr. Mantovani always reminds parents, "An autism diagnosis requires the energy of a marathon runner. It's not a sprint."
Tips from moms who have been there
Sarah Trenary:  "The most important piece of advice I have for parents who have received the diagnosis or are waiting for an official diagnosis is don't wait to get early intervention. Nothing good can come from waiting, but starting therapy early gives your child the best chance at having good relationships and communication."
Mackenzie Sider: "You might struggle at times and that's normal. We moms impose so much pressure on ourselves and feel so inadequate. It's ok to ask for help, for your child and YOURSELF."
Media Contacts