April 11, 2016
OKLAHOMA CITY – For nearly a decade, Mercy Clinic – Good Samaritan has provided free health care to hundreds of Oklahomans who might otherwise be unable to afford it. Nestled on the corner of Eastern and Memorial near Oklahoma Christian University, the fully operational facility offers X-Rays, lab work and general care for anyone over the age of 12.
"Mercy Clinic – Good Samaritan is no different than any other Mercy clinic," said medical director, Dr. James Dixson, who helped open the clinic more than seven years ago. Now serving as the primary physician, Dr. Dixson estimates the clinic treats approximately 100 patients each month.
"We see a range of conditions, mostly diabetes, chronic lung disease, hypertension and asthma," Dr. Dixson said. "We see a lot of general medical conditions, like sore throat, fever; but we also see serious conditions."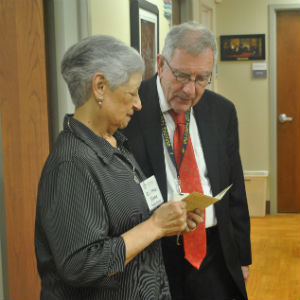 Recently, Dr. Dixson says he had to give a difficult diagnosis to a patient who had already lost so much.
"She was a Syrian refugee. Her family had been killed in the war overseas. She came to Oklahoma and to our clinic where she was diagnosed with breast cancer," Dr. Dixson said. "Had she not come into our clinic, I'm not sure if she would have been diagnosed because she did not have insurance."
According to the United States Census Bureau, lack of health insurance is becoming increasingly common in the Sooner State. More than 17 percent of Oklahomans under the age of 65 are uninsured. That number is only expected to grow amid state budget cuts that could limit health care for the poor. To keep up with the demand, Dr. Dixson says the center relies solely on volunteers, who spend their free time caring for patients. 
"We have about 30 people volunteering right now, from front desk volunteers to nurses, advanced practitioners and physicians," Dr. Dixson said. "All of us feel that what we are doing is really in line with the spirit of the Sisters of Mercy. This is what we stand for."
Founded in the 1800's by Sister Catherine McAuley, the Sisters of Mercy cared for the poor in Ireland, before expanding into America and in 1884, Oklahoma. Today, hundreds of Sisters carry on that legacy. One of them is Sister Elena, a regular sight at the clinic.
"I believe this is what God called me to do," Sister Elena said. "We have to be a voice to the voiceless. This is our mission."
Fluent in English and Spanish, Sister Elena helps translate for patients who may have difficulty understanding. She also provides comfort and prayers for anybody who needs it.
"Sometimes we get pretty full in the waiting room and I like to walk around and see if anybody wants to talk personally," Sister Elena said. "I want them to know that we truly care for them."
Now open twice a week on Wednesday and Saturday, Mercy Clinic – Good Samaritan averages nearly two dozen patients each clinic session. Most patients have appointments, but walk-ins are welcome if enough volunteers are present.
"We really find that this clinic makes a difference in patient's lives, and that's what matters most," Dr. Dixson added. "We have story after story of people we have helped in the past who now want to give back. It just keeps growing."
Mercy, named one of the top five large U.S. health systems in 2017 by Truven, an IBM Watson Health company, serves millions annually. Mercy includes 44 acute care and specialty (heart, children's, orthopedic and rehab) hospitals, more than 700 physician practices and outpatient facilities, 40,000 co-workers and more than 2,000 Mercy Clinic physicians in Arkansas, Kansas, Missouri and Oklahoma. Mercy also has outreach ministries in Arkansas, Louisiana, Mississippi and Texas. 
Our Providers
Practices
Media Contacts
Meredith Huggins
El Reno, Guthrie, Kingfisher, Oklahoma City, Watonga