April 11, 2016
ADA, Okla. - For more than a decade, Ada's Compassion Outreach Center has provided free healthcare to low income families or those who are uninsured. Ed Poblente opened the center in 2004, answering what he says is a call from God.
"The Compassion Outreach Center is a faith-based free medical clinic that serves the people of Pontotoc County," Poblente said. "Our goal is to share the compassionate love of Jesus Christ for those in need of limited chronic care but have no medical insurance, Medicare, or Medicaid."
Now, 12 years after opening, more than 1,200 people have been served. The Compassion Outreach Center relies on volunteers, mostly from a medical or dental background, to help care for patients. Peggy Warner, a registered nurse, works as a compliance and risk manager at Mercy Hospital Ada. She says her reason for volunteering is simple.
"I want to be able to give back to the community that I live in," Warner said. "Volunteering at the Compassion Outreach Center gives me a way to serve God and take care of people."
Warner adds that walking into the Compassion Outreach Center is like walking into a room full of old friends and family.
"There are few words that can describe the atmosphere at the center," Warner said. "It's as if everyone has known each other for a lifetime. I always leave the Center with a smile in my heart."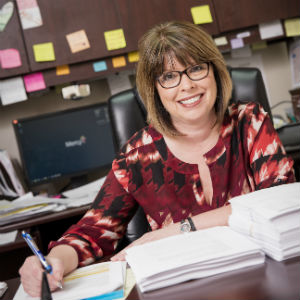 A typical night at the Compassion Outreach Center involves around 25 patients with pre-scheduled appointments.
"We try to see folks that need ongoing monitoring for things like diabetes, high blood pressure, or high cholesterol," said Poblente. "We also provide medications at low cost or no cost to patients."
In addition, Mercy Hospital Ada recently provided the center with a $7,500 grant for diabetic medications. Diabetes is one of the leading health problems in Pontotoc County and Oklahoma.
"We are just so tickled pink about what's coming in 2016," Poblente said. "We can't wait to see what God has in store."
The Compassion Outreach Center is located at 1124 Cradduck Rd. It's open twice a month, every 2nd and 4th Tuesday from 5pm to 9pm. For more information, or, if you're interested in volunteering, call 580- 310-1021.
Dealing with Diabetes
In 2011, approximately 11% of adult Oklahomans reported being diagnosed with diabetes. Here are 4 steps you can take to manage your diabetes.
Learn about diabetes. Remember, you are the most important member of your health care team.
Know your diabetes ABC's.


A1C test – a blood test that measures your average blood sugar level over the past three months
Blood pressure – if your blood pressure gets too high, it can cause a heart attack or stroke. The blood pressure goal for most people with diabetes is below 140/90.
Cholesterol – Ask your doctor what your cholesterol numbers should be. Your goals may be different from other people.

Learn how to live with diabetes. Eat well, be active and talk to your health care team.
Get routine care to stay health.
*Provided by the National Institute of Diabetes and Digestive and Kidney Diseases
Mercy, named one of the top five large U.S. health systems in 2017 by Truven, an IBM Watson Health company, serves millions annually. Mercy includes 44 acute care and specialty (heart, children's, orthopedic and rehab) hospitals, more than 700 physician practices and outpatient facilities, 40,000 co-workers and more than 2,000 Mercy Clinic physicians in Arkansas, Kansas, Missouri and Oklahoma. Mercy also has outreach ministries in Arkansas, Louisiana, Mississippi and Texas. 
Media Contacts
Lindsey Treadwell
Ardmore, Healdton, Ada, Tishomingo