April 11, 2016
ST. LOUIS  – A new, investigational device designed to reduce heavy menstrual bleeding caused by uterine fibroids is available for patients as part of a clinical trial at Mercy Hospital St. Louis, the only site in Missouri chosen to participate in the SonataTM study.
Each year, more than 2,000 women undergo treatment for uterine fibroids at Mercy St. Louis. Symptomatic fibroids can cause painful periods and heavy menstrual bleeding impacting the quality of life for many women. Traditional treatment options for uterine fibroids vary from hysterectomy (removing the uterus) to hormone therapy.
Unlike open surgery or laparoscopy, the Sonata System is designed to access the inside of the uterus without any incisions. It uses sonography to locate and target the individual fibroids, and radiofrequency (heat) energy to treat the fibroids.
The study will establish if the heat energy can make fibroids shrink and reduce fibroid-related symptoms. Participants will receive treatment and all study-related care at no cost.
"New technologies continue to emerge to accommodate the growing preference to preserve the uterus in women afflicted by fibroids," said Dr. David Levine, director of minimally invasive gynecology at Mercy Hospital St. Louis and one of the principal investigators in the SonataTM Study. "The ability to treat fibroids that grow close to the uterine cavity with no incision and minimal recovery is a welcomed advance in gynecologic care."
Premenopausal women between ages 25-50 with fibroids, who suffer from heavy menstrual bleeding and do not wish to become pregnant, may be eligible to participate in the study. It will enroll about 150 patients nationwide and the data will be used by the FDA to evaluate its availability in the United States.
Five patients have currently been enrolled at Mercy St. Louis.
Contact the Mercy Clinic study coordinator information at 314-583-7473 for more information or visit www.sonatatrial.com.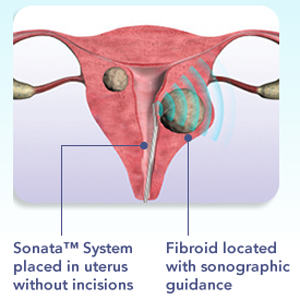 Mercy, named one of the top five large U.S. health systems in 2017 by Truven, an IBM Watson Health company, serves millions annually. Mercy includes 44 acute care and specialty (heart, children's, orthopedic and rehab) hospitals, more than 700 physician practices and outpatient facilities, 40,000 co-workers and more than 2,000 Mercy Clinic physicians in Arkansas, Kansas, Missouri and Oklahoma. Mercy also has outreach ministries in Arkansas, Louisiana, Mississippi and Texas. 
Our Providers
Practices
Media Contacts