April 15, 2016
In the spring of 2013 my father was diagnosed with ALS (Lou Gehrig's disease). Six weeks later, he died.  He was able to experience a dignified death, surrounded by loved ones in part because we had the opportunity to discuss the treatments that he would or would not want as death approached - and those decisions were documented in his advance directive. I am grateful that we were able to embrace the sacredness of my father's last days on earth, supporting and comforting one another in an end of life care center, rather than having to spend his final days making difficult decisions in an intensive care unit.
I am passionate about addressing advance care planning because of the gift that my father gave our family through conversations and documentation, and because of my experiences working in health care. I have witnessed patients dying peacefully, surrounded by loved ones and I have witnessed people whose dying is prolonged while members of their families are at odds with one another over medical decisions.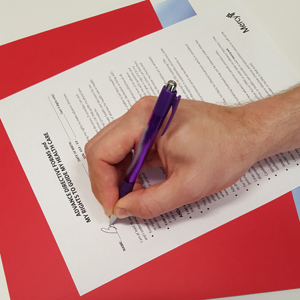 My experiences as a member of the health care team provided me with knowledge that I was able to use to help my own family, as my father faced his terminal diagnosis. I advocate for families to be able to experience death in a way that honors the life of their loved one and allows that person to die comfortably. For that to happen, we must have heart-to-heart conversations about something that many of us may be uncomfortable discussing: death.
We don't like to talk about death because it frightens us and it makes us sad to think that someday the people we love won't be here as they are now, and that someday we will all die. We may avoid the topic, even when people we love are in the process of dying.
Pretending that dying isn't happening or that death won't ever happen to us or our loved ones will not make it easier when the time comes. In fact, I believe it is just the opposite.
Having conversations in which we face our mortality frees us to embrace life more fully and prioritize our time, because we are acknowledging that we don't have all the time in the world. Recognizing that truth can motivate us to focus on what is most important: spiritual renewal, loving connections, meaningful labor, joyful recreation and life-giving experiences.
Part Five of the Ethical and Religious Directives for Catholic Healthcare, which addresses "Issues in Care for the Seriously Ill and Dying," speaks of hope in the face of death. "Christ's redemption and saving grace embrace the whole person, especially in his or her illness, suffering, and death. The Catholic health care ministry faces the reality of death with the confidence of faith. In the face of death – for many, a time when hope seems lost – the Church witnesses to her belief that God has created each person for eternal life."
Reasons for Advance Care Planning:
Discussing and documenting your wishes helps to ensure that future medical decisions are consistent with your values and preferences.
Having discussions now can give your family peace of mind should you be unable to communicate with them at the end of life. This could reduce the possibility of guilt, confusion or family conflict if difficult decisions must be made on your behalf.
This is a gift you give to yourself and your family.
Two Steps in Advance Care Planning:
Having conversations with family members and other loved ones about what you would want in the event of a life-threatening illness or injury. This is a discussion in which you might share the things that make your life meaningful (conversations with loved ones, the ability to recognize family/friends, etc.) without which you would not wish to have your dying prolonged.
Documenting your preferences in writing, such as in a living will.
Perhaps you have been asked in a clinic or hospital setting whether you have or would like to complete an Advance Directive. The Patient Self-Determination Act passed in 1990 requires Medicare and Medicaid providers to educate staff and patients about health care decision-making, to ask patients whether they have an advance directive, and to comply with the requirements of state law respecting advance directives.
Advance Directives include:
Health Care Directives /Living Will: Provides directives to be followed by health care providers when a patient has lost their decision making capacity. This may include instructions about what treatments should or should not be used when at the end stage of a terminal condition. It may also include other forms of care that one would wish to receive, including spiritual support, music therapy, pet therapy, etc.
Durable Power of Attorney for Health care: This allows you to designate someone else to make health care decisions when you cannot do so. Your "health care proxy" or "durable power of attorney for health care" should be someone you trust and someone who has the moral courage to honor your directives. It does not need to be your next-of-kin.
Mercy makes it easy, by posting the forms online for you to fill out. Once you've completed your advance directive, ensure that copies are provided to your health care proxy, health care providers, hospital, family members, significant friends, faith leaders, and others whom you think should have the information. 
It is important to discuss values, beliefs and priorities. Questions to consider:
Who are the people most important to you?
What relationships and experiences have you shared that matter most to you?
Who should be notified if you are ill?
Would you want a member of the clergy or a member of your religious community to be notified if you were ill or dying?
What impacts your physical, emotional or spiritual wellbeing? (Being outdoors? Listening to music? Sharing meals with loved ones? Being surrounded by loved ones? Conversations? Quiet time?)
Are there cultural beliefs or practices that are important to you?
What would you need for comfort and support as you journey near death? (Prayer? Reading of sacred texts? Rituals?)
How would you like to be remembered?
What are the accomplishments that you are most proud of?
What would you want the last week of your life to look like? Where will you be? Who will be there?
What fears do you have about dying?
What would you like to tell loved ones before you die?
Mercy, named one of the top five large U.S. health systems in 2017 by Truven, an IBM Watson Health company, serves millions annually. Mercy includes 44 acute care and specialty (heart, children's, orthopedic and rehab) hospitals, more than 700 physician practices and outpatient facilities, 40,000 co-workers and more than 2,000 Mercy Clinic physicians in Arkansas, Kansas, Missouri and Oklahoma. Mercy also has outreach ministries in Arkansas, Louisiana, Mississippi and Texas. 
Resources
Media Contacts
Sonya Kullmann
Berryville, Branson, Cassville, Lebanon, Mountain View, Rolla, Springfield, Aurora