April 21, 2016
One evening a week, a group of Mercy co-workers in Springfield, Missouri, trade their suits and scrubs for jeans and gardening gloves. The volunteers are building a new community garden, just north of the hospital campus.
"This neighborhood there has been classified as a 'food desert' by the the local health department," explained Doug Neidigh, Mercy's executive director of Energy and Sustainability. "That means there isn't a grocery store within a half mile, resulting in limited access to nutritious food. We know how important a healthy diet is, and we knew we could help."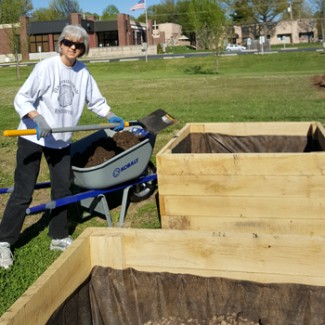 Mercy, the health department and Springfield Community Gardens approached the local Park Board with a proposal to turn part of Ray Kelly Park into a community garden. The Park Board approved the site plan and the project, citing Mercy's pledge to provide volunteers to maintain the gardens.
"Sustainability is one of the criteria the Park Board takes into account when assessing the viability of such requests," said Miles Park, Park Board assistant director. "Particularly appealing with this proposal is Mercy's commitment to seeing it through as a facet of their wellness initiative."
With approvals in place, volunteers began building raised beds that would be ready for the spring planting season. Once the crops go in, neighbors are invited to pitch in on the planting, weeding and watering and share in the harvest.
"Community gardens build neighborhood trust, teach us how to work together toward a common goal and of course they encourage healthy eating, too," said Maile Auterson, president of Springfield Community Gardens. "This garden is a great way for Mercy co-workers to interact in a meaningful way with the Meador neighborhood and build relationships around better eating choices."
It's also an effort that literally goes back to Mercy's roots in the community. When the Sisters of Mercy came to Springfield to establish the city's first hospital, they also planted a garden, and fed those who showed up hungry at their doorstep. As Mercy in the Springfield area marks its 125th year, co-workers made a pledge to donate at least 125,000 hours in community service.
"This project fits in perfectly with our mission and our anniversary," said Elaine Trimmell, Mercy certified coding specialist. "I enjoy gardening, and I'm glad I can be involved in this project. I hope it will be an inspiration to community members."
The Springfield-Greene County Health Department provided funding for most of the startup costs through a $2,300 grant. "We support efforts to provide accessible fresh fruits and vegetables to our neighborhoods," said Heather Parker, health program representative for the Springfield-Greene County Health Department's Chronic Disease Prevention division. "We know that eating healthier is a behavior change towards chronic disease prevention."
There are similiar Mercy gardens in the Mountain View and Houston, Missouri communities.
If you are a Mercy co-worker and would like to volunteer on this project, you can sign up at givepulse.com, or come by on Tuesdays at 4:30 p.m. (corner of Fremont and Seminole).
Mercy, named one of the top five large U.S. health systems in 2017 by Truven, an IBM Watson Health company, serves millions annually. Mercy includes 44 acute care and specialty (heart, children's, orthopedic and rehab) hospitals, more than 700 physician practices and outpatient facilities, 40,000 co-workers and more than 2,000 Mercy Clinic physicians in Arkansas, Kansas, Missouri and Oklahoma. Mercy also has outreach ministries in Arkansas, Louisiana, Mississippi and Texas. 
Media Contacts
Sonya Kullmann
Berryville, Branson, Cassville, Lebanon, Mountain View, Rolla, Springfield, Aurora