April 27, 2016
ST. LOUIS - Two new certified nurse midwives recently joined the Mercy Birthing Center to care for the growing number of women seeking a home-like birth environment, Jennifer (Jenny) Killeen and Maria Roeber.
Killeen received her Master of Science in Nursing from Marquette University and has practiced midwifery in her hometown of Milwaukee, Wisconsin since 2008. While she worked in a high-risk practice, she always had a passion for supporting moms through the physiologic birth process and loves the development of relationships through the journey of pregnancy. When not working, she can be found perfecting a new cooking technique, chasing her toddler or catching a baseball game with her husband.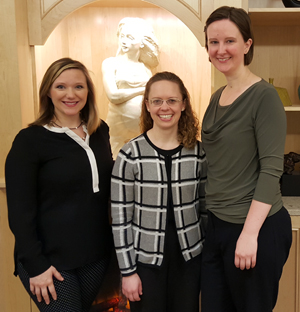 Roeber, who came to St. Louis from Pennsylvania, spent seven years as a labor and delivery nurse at an academic medical center in Washington, D.C., and two years as a medical missionary in Tanzania, East Africa. While in Africa, she learned to appreciate physiologic birth as well as the appropriate use of medical intervention when it is needed. She earned her master's degree as a certified nurse midwife through Frontier Nursing University in Hyden, Kentucky. Her interests include singing in her church choir, gardening, hiking, cooking, traveling and volunteer work.
Mercy, named one of the top five large U.S. health systems in 2017 by Truven, an IBM Watson Health company, serves millions annually. Mercy includes 44 acute care and specialty (heart, children's, orthopedic and rehab) hospitals, more than 700 physician practices and outpatient facilities, 40,000 co-workers and more than 2,000 Mercy Clinic physicians in Arkansas, Kansas, Missouri and Oklahoma. Mercy also has outreach ministries in Arkansas, Louisiana, Mississippi and Texas. 
Practices
615 S. New Ballas Road
St. Louis, MO 63141
Media Contacts