April 29, 2016
ST. LOUIS - A novel technology is protecting heart patients at risk for sudden death.  Michael Kraemer recently survived a life-threatening sudden cardiac arrest in his home.
Sudden cardiac arrests, different than a heart attack, occur when the heart suddenly and unexpectedly stops beating, cutting off blood to the brain and other vital organs. If not treated within minutes, they usually cause death.
Cariac arrest claims the lives of 350,000 Americans each year, but Kraemer was saved because he was prescribed a wearable defibrillator called the LifeVest. The device automatically detected his cardiac arrest and delivered a treatment shock that saved his life.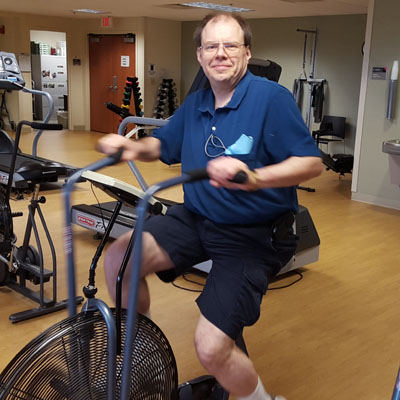 Kraemer's Lifevest was prescribed after he suffered a heart attack that damaged his heart muscle and severely weakened his cardiac function. He was instructed to wear the device under his clothes 24/7 to monitor his heart around the clock.
"It's like an insurance policy," said Dr. Deryk McDowell, cardiologist with Mercy Clinic Heart and Vascular. "In the past, we would have just waited to see if a patient's heart function improved. Now, we ask certain patients to wear the LifeVest for 90 days to monitor the need for an implanted defibrillator."
Six days after he left the hospital, Kraemer suffered a sudden cardiac arrest while he was sleeping at home. His heart had spiked into a dangerous rapid rhythm, beating so fast it quivered instead of pumping vital blood to his body and brain. As many as 95% of victims die before they can reach some form of emergency help, but Kraemer survived. His LifeVest detected the life-threatening arrhythmia and delivered a treatment shock that restored his normal heart rhythm and saved his life.
Kraemer's mother heard the alarms and called 911. He regained consciousness shortly after the treatment. By the time emergency responders arrived, he was alert and awake. On the way to the hospital, he again fell unconscious and suffered a second sudden cardiac arrest. Still wearing the LifeVest, it detected the life-threatening arrhythmia and delivered another treatment shock that restored his normal heart rhythm and saved his life.
Ultimately Kraemer's life was saved four times because of his LifeVest. He later received an implantable defibrillator for long-term protection from sudden death.
"I would have died in my sleep, but the LifeVest saved me," Kraemer said, expressing gratitude to Dr. McDowell and his cardiology team. He's now back home focusing on his recovery and looking forward to getting back to his everyday routine.
Mercy, named one of the top five large U.S. health systems in 2017 by Truven, an IBM Watson Health company, serves millions annually. Mercy includes 44 acute care and specialty (heart, children's, orthopedic and rehab) hospitals, more than 700 physician practices and outpatient facilities, 40,000 co-workers and more than 2,000 Mercy Clinic physicians in Arkansas, Kansas, Missouri and Oklahoma. Mercy also has outreach ministries in Arkansas, Louisiana, Mississippi and Texas. 
Our Providers
Practices
625 S. New Ballas Road
St. Louis, MO 63141
Media Contacts