May 4, 2016
OKLAHOMA - Starting in November, Oklahoma will join 25 other states that require doctors to inform patients if they are at a higher risk of developing breast cancer. Recently, Governor Mary Fallin signed into law a house bill that calls for doctors to inform women if they have dense breast tissue. While not uncommon, dense breasts have more non-fatty and gland tissue and may lead to an increased risk of cancer. Because of this tissue, having dense breasts could also lower the chances that your doctor will see the cancer using regular mammography.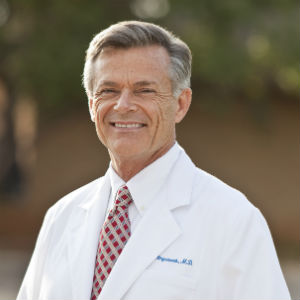 Better breast health is something Mercy's dedicated physician's have worked tirelessly to promote. Dr. Alan Hollingsworth serves as medical director of Mercy's Women's Health Center, and will soon serve as medical director of Mercy's Breast Health Center in our new Coletta Building, a state-of-the-art cancer center opening on our Oklahoma City campus in June. He is widely considered to be one of the nation's pioneers in identifying and treating cancer in dense breasts. Since as early as 1993, Dr. Hollingsworth has championed for breast MRI and additional screening by developing a breast density scoring system for Mercy patients. He has also estimated that breast cancer may not have been diagnosed in as many as half of his patients had he relied on mammography alone. 
Dr. Hollingsworth recently sat down with Oklahoma City's KOCO Channel 5 news to discuss the new law. Click here to watch the interview.
Mercy, named one of the top five large U.S. health systems in 2017 by Truven, an IBM Watson Health company, serves millions annually. Mercy includes 44 acute care and specialty (heart, children's, orthopedic and rehab) hospitals, more than 700 physician practices and outpatient facilities, 40,000 co-workers and more than 2,000 Mercy Clinic physicians in Arkansas, Kansas, Missouri and Oklahoma. Mercy also has outreach ministries in Arkansas, Louisiana, Mississippi and Texas. 
Our Providers
Media Contacts
Meredith Huggins
El Reno, Guthrie, Kingfisher, Oklahoma City, Watonga