May 6, 2016
Beginning this week, Mercy Hospital Joplin will provide a free 30-day supply of children's multivitamins each month for a year for families that currently get their prescriptions filled at Mercy's pharmacy.
In partnership with the Good Neighbor Pharmacy's Healthy Kids Vitamin Program, the retail pharmacy at Mercy Hospital Joplin will provide the Good Neighbor Pharmacy brand of chewable children's complete multivitamins for free for children ages 2 to 12 to eligible families.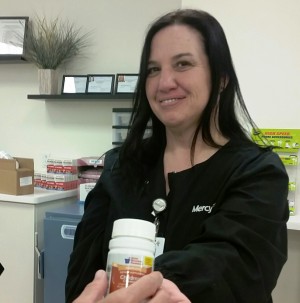 Families will need to fill out a form at the Mercy pharmacy to register for the vitamin program and will receive a punch card so they can begin receiving their monthly vitamins.
"At Mercy, we are committed to providing the very best care, which includes helping our youngest community members stay healthy," said Amanda Mayer, manager of the retail pharmacy at Mercy Hospital Joplin. "By providing multivitamins, we are helping children get on the right path to good health at a young age."
Mercy Hospital Joplin is located at 100 Mercy Way in Joplin. The retail pharmacy is located on the second floor just inside the clinic entrance. If you do not currently use the retail pharmacy at Mercy Hospital Joplin, it is easy to transfer prescriptions from another pharmacy. Mercy's pharmacy accepts Medicare, Medicaid and most major insurance plans. For more information, call (417) 556-8930.
Mercy, named one of the top five large U.S. health systems in 2017 by Truven, an IBM Watson Health company, serves millions annually. Mercy includes 44 acute care and specialty (heart, children's, orthopedic and rehab) hospitals, more than 700 physician practices and outpatient facilities, 40,000 co-workers and more than 2,000 Mercy Clinic physicians in Arkansas, Kansas, Missouri and Oklahoma. Mercy also has outreach ministries in Arkansas, Louisiana, Mississippi and Texas. 
Practices
100 Mercy Way
Joplin, MO 64804
100 Mercy Way
Joplin, MO 64804
Media Contacts