May 13, 2016
The Mercy Health Foundation Joplin received a $5,000 check from HOPE 4 You Breast Cancer Foundation at a presentation ceremony May 12 at Mercy Breast Center in Mercy Hospital Joplin.
Funds donated by HOPE 4 You are used through Mercy Health Foundation to provide free and low-cost mammograms to women who cannot afford one. HOPE 4 You receives funding from individuals, organizations and fundraisers such as its annual Race 4 HOPE, which will be June 4.
"We couldn't do what we do without our partners," said Fred Osborn, vice president of the Mercy Health Foundation. "Today we're here to celebrate one of those amazing partnerships, and that's our partnership with HOPE 4 You."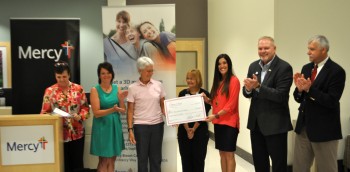 "Our passion for HOPE 4 You is beyond measure," said Sharon Clark, HOPE 4 You Breast Cancer Foundation president, of the board members present, including three breast cancer survivors. "We get a thrill out of giving you all money because the three of us are survivors due to early detection and mammograms."
HOPE 4 You has filled a gap in breast cancer awareness and prevention funding in 12 counties in the four- state area. Since 2008, HOPE 4 You has contributed nearly $40,000 to Mercy Health Foundation's Mammogram Fund.
"Mammograms save lives because they detect cancers, which is why HOPE 4 You is donating to our facility," said Whit Sanders, executive director for Mercy Joplin Cancer Services.                                                                                                                                               
If you or someone you know cannot afford a mammogram, call Mercy Breast Center at 417.556.2273. To learn more about Mercy Breast Center, visit /MercyBreastCenterJoplin. For information on HOPE 4 You or Race 4 HOPE, go to hope4youbcf.org.
Mercy, named one of the top five large U.S. health systems in 2017 by Truven, an IBM Watson Health company, serves millions annually. Mercy includes 44 acute care and specialty (heart, children's, orthopedic and rehab) hospitals, more than 700 physician practices and outpatient facilities, 40,000 co-workers and more than 2,000 Mercy Clinic physicians in Arkansas, Kansas, Missouri and Oklahoma. Mercy also has outreach ministries in Arkansas, Louisiana, Mississippi and Texas. 
Practices
100 Mercy Way
Joplin, MO 64804
100 Mercy Way
Joplin, MO 64804
Media Contacts