May 19, 2016
Monday, Nov. 9, 2015, started off like any other day for Neal Lewis, but by that evening, his day was anything but typical.
Lewis, 63, of Joplin, awoke that morning at 4 a.m. to get ready for his job in the cafeteria at Mercy Hospital Joplin. It was a busy day at work but he felt fine and was in no pain when he left work at about 2 p.m.
While resting on the couch at around 5 p.m. that evening, he called out to his wife in the kitchen to come into the living room. When she arrived, he was sitting up but was unresponsive. She called 9-1-1 and was instructed to move her husband onto the floor so he could lay flat on his back and wait for the ambulance to arrive and transport him to Mercy Hospital Joplin.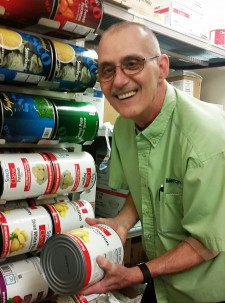 From around 5 p.m. on Nov. 9 until about noon on Nov. 11, Lewis would not speak or open his eyes.
At first, doctors were unsure the cause of his unresponsiveness and thought he may have had a seizure. A CT scan revealed that he had suffered an embolic ischemic stroke, which affected both sides of his brain.
He received treatment and, on Nov. 11, opened his eyes and spoke for the first time in two days.
"Even though I could not move my left arm or leg and could barely move my right arm or leg, I felt very thankful to be alive," said Lewis. The next day, "the doctor came in and said to me, 'I hope you realize what a miracle you are. From looking at the CT scan, you should not be doing nearly as well as you are.'"
Time Is Brain
A stroke occurs when the flow of blood is cut off to the brain causing the brain tissue to die, which can result in permanent damage or death.
Stroke is the leading cause of disability in the United States and more than half of stroke patients will not be able to care for themselves after a stroke if they do not arrive to the emergency room quickly to receive treatment. The National Stroke Association estimates about 795,000 strokes occur annually in the United States — one stroke every 40 seconds.
For patients who present with stroke-like symptoms, local emergency room providers at Mercy Hospital Joplin can activate the telestroke program, which connects patients in one location with a neurologist in another facility through two-way, audio-visual technology. It's just one of the many advances in technology that Mercy invested in when rebuilding its hospital after an EF5 tornado.  
Mercy Hospital Carthage in Carthage, Missouri, and Mercy Hospital Fort Scott in Fort Scott, Kansas, also utilize the telestroke service.
If the neurologist determines the patient is having a stroke, the local provider may administer the clot-buster drug, tPA, which is approved to treat ischemic stroke, the most common type of stroke. This medication is most effective when administered within three hours of the first stroke symptoms. After diagnosis and treatment, local neurologists in Joplin follow up with patients in the hospital.
"Two million brain cells die every minute when a patient is having a stroke," said Dr. Sean Smith, medical director of the emergency department and stroke program at Mercy Hospital Joplin. "Once you lose those brain cells, you can't get them back, so it is important to get to the emergency room immediately to limit brain damage by receiving the treatment you need, when you need it."
Luckily, Lewis arrived at the hospital soon after his symptoms started, which helped him avoid serious disability. He did not receive tPA because he takes an anticoagulant for atrial fibrillation. In patients taking an anticoagulant, tPA is not a recommended form of treatment for stroke and may cause more harm than good. Lewis did, however, receive other treatments and therapy to help him heal more quickly.
Road to Recovery
On Nov. 16, 2015 — one week after his stroke — Lewis was discharged from the hospital and was able to walk unassisted from the car into his house.
Now, nearly six months after his stroke, Lewis is walking, talking and back at work. He is thankful for the care he received from doctors, nurses and support staff during his stay in the hospital, and for the physical therapists at Mercy Therapy Services in Joplin who worked with him for about six weeks to rebuild the strength and feeling in his legs and arms.
"I have been back to work for a few months now and am feeling better every day," said Lewis. "Miracles do still happen — I am living proof."  
How to Identify a Stroke
If you notice someone with the following symptoms, remember to think FASST and call 9-1-1.
Face: Ask the person to smile. Does the face look uneven?
Arm: Ask the person to raise both arms. Does one arm drift down?
Speech: Ask the person to repeat a simple phrase. Does the speech sound strange?
Sudden loss of vision: Is the person experiencing a sudden loss of vision?
Time: Don't waste time. Seek medical attention immediately.
Mercy, named one of the top five large U.S. health systems in 2017 by Truven, an IBM Watson Health company, serves millions annually. Mercy includes 44 acute care and specialty (heart, children's, orthopedic and rehab) hospitals, more than 700 physician practices and outpatient facilities, 40,000 co-workers and more than 2,000 Mercy Clinic physicians in Arkansas, Kansas, Missouri and Oklahoma. Mercy also has outreach ministries in Arkansas, Louisiana, Mississippi and Texas. 
Practices
Media Contacts