June 3, 2016
School's out, but these youngsters are still learning and teaching important lessons.
Instead of laying around watching TV or playing video games, Maggie, Ella, Lily and Treah spent the first week of summer operating a lemonade stand. On their own, they decided to donate the proceeds to Mercy Kids child life services. They want kids who end up spending time in the hospital over the summer to be more comfortable while there.
Child Life specialists are pediatric health care professionals who work with children and families in hospitals and other settings to provide distraction and help them cope with challenges of a hospitalization, illness and disability.
"When kids go out of their way to help others, it makes a great impact on all involved," said Alberta Lee, manager of Mercy Kids Child Life Services. "We are honored they thought of us."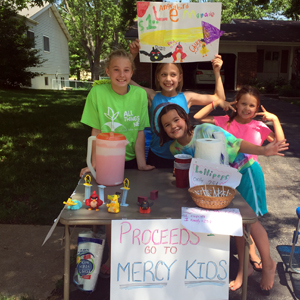 Mercy, named one of the top five large U.S. health systems in 2017 by Truven, an IBM Watson Health company, serves millions annually. Mercy includes 44 acute care and specialty (heart, children's, orthopedic and rehab) hospitals, more than 700 physician practices and outpatient facilities, 40,000 co-workers and more than 2,000 Mercy Clinic physicians in Arkansas, Kansas, Missouri and Oklahoma. Mercy also has outreach ministries in Arkansas, Louisiana, Mississippi and Texas. 
Media Contacts