June 8, 2016
When Collean Frederickson took a hard fall that knocked her unconscious in March, her family was thankful for the compassionate and expert care she received from Mercy paramedics and the care team in the emergency department at Mercy Hospital Ada.
"The doctors and nurses were very thorough and did an amazing job taking care of her," said Jan Boyd, Frederickson's daughter. "I was deeply appreciative that they were treating her like she was a family member."
After Frederickson arrived by ambulance to the emergency department at Mercy Hospital Ada, she was immediately taken to the imaging department to get an MRI to examine the extent of her injuries. Doctors determined she had two brain bleeds, a fractured skull and swelling in the brain, and required a transfer to Oklahoma City to see a neurosurgeon. She also had lower back pain caused by bulging disks in her spine.
While waiting for the ambulance transfer to Oklahoma City, Frederickson's care team moved her into a bigger room in the emergency department so members of her large family could visit her.
"They knew how critical it was to be with our mother since she was severely hurt" and no one knew the outcome of her injuries, said Boyd.
Frederickson stayed for about two weeks in Oklahoma City before she was released to go back to her home in Ada. Her recovery has been slow, but she is improving every day.
Thanks to the help of physical therapists and her own determination, she can walk again without the use of a walker. She has also received injections to alleviate her lower back pain from Dr. Brian Parks, an interventional pain management specialist at Mercy Clinic Pain Management in Ada.
"She is so much better than she was and we are extremely lucky we even have her with us," said Boyd.
A Tale of Two Emergency Departments
In 2013, Mercy officially assumed ownership of Valley View Regional Hospital, now called Mercy Hospital Ada. In the three years since becoming part of Mercy, the hospital has undergone significant changes that have improved patient care. 
Many of those changes are reflected in the hospital's emergency department, which, for many, is the front door to the hospital.
Every day, emergency department physicians, providers and other clinical co-workers must be able to quickly diagnose and stabilize patients who suffer from a wide array of injuries and illnesses. They must then determine whether to send the patient home, admit them to the hospital, transfer them to a higher level of care or refer them to see a specialist.
And, they must do all of this as efficiently as possible to minimize wait times.
About five years ago before the hospital became part of Mercy, Boyd's father suffered a heart attack. Luckily, her father survived and is doing well, but she and her family were very disappointed in the emergency department experience at that time.
It was a completely different story with her mother's care earlier this year. She even sent an email thanking the emergency department staff for the great service her mother received.
"I was one that gave negative feedback (about the emergency department) at one time," said Boyd. "My mother got totally different treatment. There's just no comparison."
Improvements in Action
Over the last couple of years, emergency department physicians and co-workers have been busy improving the patient experience. Here is a breakdown of some of the important changes Mercy has made in the emergency department.
Stroke care: Last fall, the emergency department initiated a new stroke protocol, which created a quicker process to get blood work and a CT scan completed when a patient has stroke-like symptoms. Last December, Mercy Hospital Ada launched a new telestroke program where patients with stroke symptoms are seen immediately by a physician or provider in the emergency department and are connected to a neurologist in Mercy's Stroke Center through two-way, audio-visual technology. If the neurologist determines the patient is having a stroke, the local provider can administer the clot-busting drug called tPA, which is approved to treat ischemic stroke, the most common type of stroke. The medication is most effective when administered within three hours of the first stroke symptoms. This telemedicine technology helps patients receive treatments faster – and more conveniently – than if they had to travel to another city to see that provider.
Imaging services and laboratory tests: Teams in the emergency department, imaging department and laboratory services have worked collaboratively over the past several months to identify and correct any delays in their processes to ensure patients receive the imaging tests and laboratory services they need more quickly.
Facility improvements: Over the last year, Mercy Hospital Ada renovated the waiting room, reception area and triage space in the emergency department to make them more inviting and welcoming to patients and visitors. These improvements are part of a long-term plan to expand and improve the emergency department.
Staffing: This summer, Mercy will welcome two new emergency medicine physicians, Dr. Benjamin Lynch and Dr. Tyrone Philipson. Once they join the team, the emergency department will be fully staffed with permanent Mercy physicians. Mercy's emergency department is also staffed entirely by permanent Mercy nurses.
Wait times: In February, staff in the emergency department began the pull-till-full process, where patients will immediately be placed in a room if one is available rather than being taken to the triage room and sent back out to the waiting room. This is one of the ways the emergency department team is trying to reduce wait times. To date, the team has made significant progress in meeting their overall goals to get patients into a room within 10 minutes of arriving to the hospital — if not immediately — and to see a physician or provider within 15 minutes of hospital arrival.
Patient satisfaction: Each month, patient satisfaction scores continue to climb in the emergency department. Mercy co-workers use patient feedback to make real-time improvements to the care they provide as they continually strive to deliver the best patient care experience possible.
Dr. Alexia Mehrle, medical director of emergency medicine at Mercy Hospital Ada, said she is proud of the improvements the team has made over the last few years to improve the patient experience while delivering high-quality, safe care.
"We strive to provide good, safe, compassionate care to every patient, every day," she said. "We want patients to feel confident in our abilities to provide the very best medical care close to home so they don't leave the community when they are sick or injured."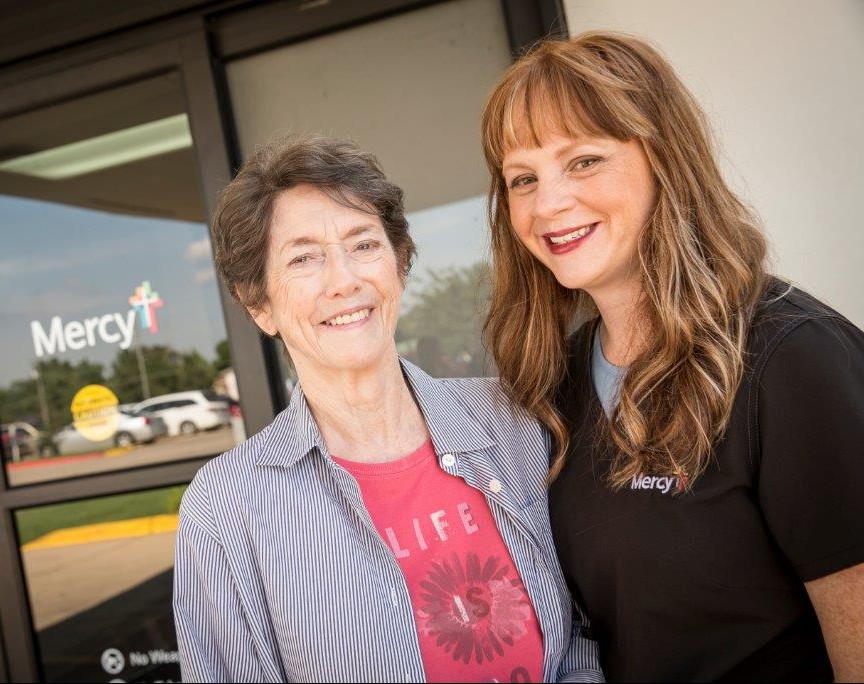 Practices
Media Contacts
Lindsey Treadwell
Ardmore, Healdton, Ada, Tishomingo