June 8, 2016
OKLAHOMA CITY - New York Yankees legend, Bucky Dent, is carrying on the mission of his late wife, Marianne, by donating blankets to patients going through chemotherapy treatment. He made a special trip to Mercy Hospital Oklahoma City on Tuesday where he surprised dozens of patients. 
Marianne Lynn Dent passed away on October 22, 2015 from brain cancer. During her battle, she created "Embraced With Love," a program that provides patients with comfortable blankets. Her mission was to make each patient feel as though they were wrapped in love, comfort and support.
To read more about the mission, click here.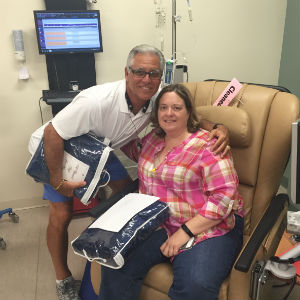 Mercy, named one of the top five large U.S. health systems in 2017 by Truven, an IBM Watson Health company, serves millions annually. Mercy includes 44 acute care and specialty (heart, children's, orthopedic and rehab) hospitals, more than 700 physician practices and outpatient facilities, 40,000 co-workers and more than 2,000 Mercy Clinic physicians in Arkansas, Kansas, Missouri and Oklahoma. Mercy also has outreach ministries in Arkansas, Louisiana, Mississippi and Texas. 
Media Contacts
Meredith Huggins
El Reno, Guthrie, Kingfisher, Oklahoma City, Watonga