June 16, 2016
As a mom of two young kids, this week has made me stop and reflect. It seems everywhere we turn lately there's something disturbing happening in the world – but this week it hit close to home.
On Monday, I was notified of a potential explosive device on the campus of Mercy Hospital St. Louis. Offsite for a meeting, my job required me to drive toward the potential danger, not away from it. Thankfully, it turned out to be a false alarm and while many people were inconvenienced, I heard a quote that stuck with me – "Security is always excessive until it's not enough."
Later in the week, I happened upon an article about emergency contacts in our phones. I carry my phone with me everywhere. In fact, I feel naked without it. However, if something happened to me, how would a first responder or ER staff know who to call? Or how would my children even access the phone feature? My phone is locked, requiring my fingerprint or a pin number to access my contacts.
When I found these step-by-step instructions on how to add ICE (in case of emergency) contacts, I immediately tried it out. It works, though mainly for newer phones. Not only can the "emergency call" feature on your phone be used to dial 9-1-1, you can program select numbers as additional emergency contacts. This can help in case of traumas in the ER, but also allow my kids to call Dad or grandparents without unlocking my phone.
Here's how:
Set up emergency contacts on an iPhone:
Go to the Health app
Tap Medical ID
Tap edit
Tap add emergency contacts
Select people from your contact list
Turn on "Show When Locked"
Where to find it in an emergency:
Go to lock screen and tap "Emergency"
Tap Medical ID
Then select the person you want to call
Other places to find your medical ID and emergency contacts:
On your personal contact card in contacts
On the lock screen, under "Emergency"
Set up emergency contacts on an Android:
Go to contacts
Choose the person's contact you want
Tap edit
Select ICE – Emergency contacts
Click save
Go to lock screen and tap "Emergency Call"
Click on the + buttons to add your emergency contact
Where to find it in an emergency:
Go to lock screen and tap "Emergency Call"
Tap the person you need to call in an emergency
Other places to find your emergency contacts:
Contact Groups
On the lock screen under "Emergency Call"
When I shared this with the ER team who often reaches out to the loved ones when a patient is brought in unconscious, they were excited.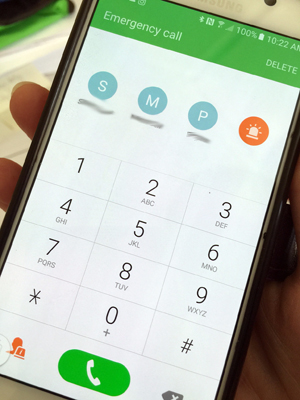 "So often we get a cell phone handed to us, but if we can't unlock it, it does us no good," said Ken Potzman, pastoral services director at Mercy Hospital St. Louis. "If everyone would adopt this for their smartphones, it would save precious time in reaching family members during a trauma situation."
While I hope it's never needed, I now know my kids and first responders/ER staff will know who to call for me in case of an emergency.
Mercy, named one of the top five large U.S. health systems in 2017 by Truven, an IBM Watson Health company, serves millions annually. Mercy includes 44 acute care and specialty (heart, children's, orthopedic and rehab) hospitals, more than 700 physician practices and outpatient facilities, 40,000 co-workers and more than 2,000 Mercy Clinic physicians in Arkansas, Kansas, Missouri and Oklahoma. Mercy also has outreach ministries in Arkansas, Louisiana, Mississippi and Texas. 
Media Contacts