July 15, 2016
ST. LOUIS - After training together, learning about fitness dos and don'ts, workout gear, injury prevention, heart health and more, Mercy FIT (Females In Training) Club walkers and runners participated in the Creve Coeur Heart to Heart 5k/10k on June 4. Not only did they have a great time doing it, they did really well. 
Take a look at the FIT Club members' results:
Grace Sullivan - 1st place 10K females 20-29
Anne Saiter –2nd place 5k females 30-39 
Laura Tamalis – 2nd place 5k females 40-49
Joan Degroote – 4th place 10k females 50-59
Teri Brown – 1st place 10k females 60-69
Bobbie Barnes – 2nd place 5k females 60-69
Karen Collins – 3rd place 5k females 60-69
FIT Club is offered by PULSE, Mercy Women's Heart and Vascular Program, and led by Mercy health care professionals. It's offered each Fall and Spring culminating with run/walk. Watch for details on FIT Club's next session.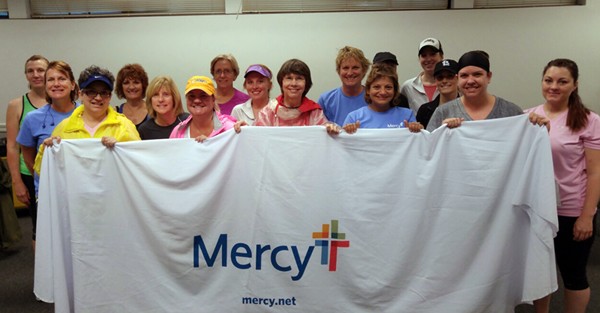 Media Contacts