July 15, 2016
OKLAHOMA CITY, Okla. – From humble beginnings to now 89 locations across the state, Mercy Clinic is celebrating its 25th year caring for people in Oklahoma, a vision that started with one doctor.
"We opened our first clinic off 19th and Warner in Guthrie on June 1st, 1991," said Dr. James Dixson, who served as the first president of Mercy Clinic, formerly known as Mercy Health Network. "At that time it was only me and two other providers."
Over the next two years, Dr. Dixson worked to develop a strong relationship with the local community and with other local providers. In 1993, he approached Dr. Jeff Sabine and Dr. Deborah Riggs about opening a second Mercy Clinic.
"He took us into a restaurant and explained to us that he wanted to start a network," said Dr. Sabine. "He was just so likeable and passionate that we signed the contract with him right away."
By 1995, two more clinics joined in Dr. Dixson's crusade. Over the next decade, a total of thirteen Mercy Clinics opened across Oklahoma. Many now credit Dr. Dixson with providing the necessary building block that allowed the network to thrive.
"He single-handedly built a stable enterprise of family practice doctors and created a solid foundation for us to work from," said Dr. Cullen Thomas, who serves as the current president of Mercy Clinic in Oklahoma.
In addition to generating a network of dedicated physicians, others say it was Dr. Dixson's kindness and compassion for others that helped propel Mercy Clinic forward.
"People respect Dr. Dixson and they wanted to help promote his mission in Mercy Clinic," said Kevin Goodwin, who serves as chief operating officer of Mercy Clinic in Oklahoma. "To this day I still haven't found anybody more passionate about Mercy and following in the Sisters' footsteps than him."
Founded in the 1800's by Sister Catherine McAuley, the Sisters of Mercy cared for the poor in Ireland before expanding into America, and eventually, Oklahoma. It is through their work that Dr. Dixson says he found his calling.
"I think a lot about how the Sisters of Mercy started," Dr. Dixson said. "They were known as the walking Sisters; they walked the streets of Dublin caring for the ill. That's where I draw my inspiration and that's really where the idea behind Mercy Clinic came from."
Today, a Mercy Clinic can be found as far north as Miami, as far south as Ardmore, and just about everywhere in between. Though he is much too humble to take credit, Dr. Dixson chalks up the accomplishments of Mercy Clinic to a team effort and a group of like-minded physicians who share a common goal.
"We're all on the same page in terms of trying to accomplish better outcomes and better patient satisfaction," Dr. Dixson said. "We all believe in the Sisters mission and in the healing ministry of Jesus. That is the true guiding force behind all of our success."
During the early years of Mercy Clinic, Dr. Dixson brought in more than 60 physicians. Today, 49 remain in practice with Mercy, including Dr. Sabine and his partner, Dr. Riggs.
"Initially it was simply an employment arrangement, but it's since grown into a deep friendship," said Dr. Sabine. "Dr. Dixson is one of the most loyal people I've ever met, and he has always worked tirelessly to make sure everybody has what they need in order to care for patients."
"The fact that the majority of those original physicians are still with Mercy says a lot about who Dr. Dixson is as a person," added Dr. Thomas. "Most of the doctors who left Mercy only did so because they retired. Very few left to work for somebody else. That is saying something."
Dr. Dixson has continued to play a crucial role at Mercy. In addition to his work as vice president of post acute services, Dr. Dixson volunteers as the primary physician for Mercy Clinic – Good Samaritan, a free clinic for the uninsured.
"He is truly an example of somebody who embodies the mission of Mercy and the mission of our Sisters," said Dr. Thomas. "It all started with him."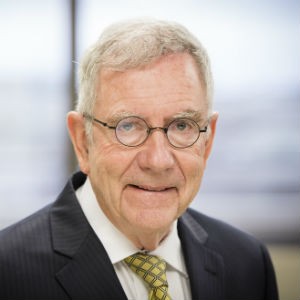 Media Contacts
Meredith Huggins
El Reno, Guthrie, Kingfisher, Oklahoma City, Watonga