July 15, 2016
Whether you suffer a heart attack, stroke or trauma, the State of Missouri has determined that 
Mercy Hospital Joplin
 is prepared to care for you.
One year after obtaining provisional status, the Missouri Department of Health and Senior Services has given the hospital emergency department's trauma program the full five-year Level II certification, the most years allowed by the state. It's a milestone for a hospital that was destroyed by the May 2011 tornado and was unable to provide trauma services until after opening at the new location in March 2015.
"Even though we had a really strong tradition of providing excellent trauma care to patients, state regulations classified it as a new building and location starting up a new trauma program," said Dr. Charles Ro, trauma director. "Once we got into our final hospital, we had the capacity and the manpower to take in trauma patients.
"The fact that we've been given the full five-year certification means we've met all of the state's standards. Our goal is to not just meet the minimum standards, but to provide excellent care. The community should know that we are here and ready to provide the best care to the sickest of patients."
To attain this designation, Mercy had to meet several criteria, including:
A long-standing commitment to trauma care.
Well-equipped facility with the latest technology.
Integrated physician structure, meaning the doctors are employed by the hospital.
High level of education and credentialing of nurses for trauma patients.
Radiology support and easily accessible equipment.
Operating room with necessary staff.
Donna Hughes, RN, trauma program manager, noted the excitement among the staff when it learned of the certification. "It makes us feel good because we moved from building to building (after the tornado)," she said. "Then we had the state here for our provisional inspection within 30 days of opening."
"I would like to thank all of the medical staff and co-workers who invested long hours and great effort to help achieve this important milestone," Ro said.
The 5-year certification, which began from the date of the initial state inspection, continues until April 14, 2020.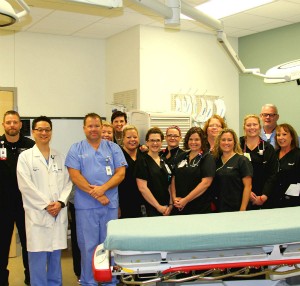 Media Contacts