July 18, 2016
ARDMORE, Okla. -- Roger Hoke has always loved golfing and staying active, but when he began feeling weak and exhausted after small activities last fall, doctors determined that the 62-year-old Ardmore man had a severe case of anemia.
Anemia is a condition where a person does not have an adequate supply of red blood cells to deliver the necessary oxygen to tissues in the body, resulting in weakness and fatigue.
Hoke is currently battling stage 4 non-alcoholic cirrhosis of the liver, which causes scarring of the tissue in the liver and may eventually lead to liver failure. His frequent bouts of anemia may be related to his underlying liver disease.  
To treat his anemia, Hoke receives frequent blood transfusions and iron infusions at the Mercy Outpatient Infusion Center at Mercy Hospital Ardmore.
Although he cannot get the transfusion and infusion at the same time, he alternates based on his test results and typically receives one of the treatments every two to three weeks. The blood transfusion usually takes about two hours per unit of blood and an iron infusion takes about four hours.
Hoke said he leaves the treatments feeling more energized and is thankful the high-quality services are available near his Ardmore home.
"Since I have these treatments every couple of weeks, it's very important that I don't have to travel out of town," said Hoke. "Having that service here is a big benefit. The two nurses, Judy and Sara, are really friendly and nice and take care of all your needs. They are very gentle getting IVs started and see to it that you get a warm blanket and a pillow."
Personalized, Hometown Care
Mercy's Outpatient Infusion Center offers private infusion bays to accommodate up to eight patients at a time in a soothing environment that promotes healing. Judy Lewellen and Sara Lee, both registered nurses in Mercy's infusion center, are board certified in vascular access and treat a variety of conditions, such as anemia, cancer, renal (kidney) failure, infections and polycythemia, which is a high concentration of hemoglobin in the blood.
To treat these and other conditions, Lewellen and Lee provide injections, blood transfusions, intravenous antibiotics, iron infusions, intravenous immunoglobulin infusions, port flushes and rabies vaccines, among other services. They also place midline or peripherally inserted central catheters, which are soft, flexible tubes used to deliver treatments through a patient's veins without requiring a needle stick.
In many cases, patients may come to the infusion center every day for several weeks for treatment, or may come back on a regular basis for months or even years.
"We have patients, like some of our renal failure patients, who come here monthly for treatment that have been coming for years and become like family to us," said Lewellen. "It is a vital part of their well being to have this done locally. Some patients would not be able to receive their treatment if they had to drive long distances."
About six years ago, Sada McClennahan, 76, was diagnosed with breast cancer and had her right breast removed. Prior to that surgery, doctors implanted a portacath, which is a small device inserted under the skin that provides easy access to a patient's veins for intravenous treatments.
Although she is now in remission and does not need the portacath for her cancer treatment, she opted to keep it in case she needs to be hospitalized in the future.
Once a month, McClennahan heads to the infusion center at Mercy Hospital Ardmore to get her port flushed so it won't get clogged with blood, which would require it to be surgically removed. During each of the appointments, she said she is very happy with the service she receives.
"You couldn't have asked for a better staff there," she said. "They are all nice, polite, courteous in every way and treat me with respect."
To learn more about the Mercy Outpatient Infusion Center at Mercy Hospital Ardmore, call 580-220-6373.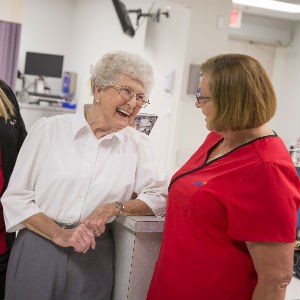 Media Contacts