July 18, 2016
Through the last 21 years, Dr. Rick Williams has watched the Ozark community expand exponentially around him. Now it's time for this Mercy doctor's team to grow, too.
"We've been busier than ever, so naturally we needed more space," he said. Beginning July 13, Dr. Williams, as well as advanced practitioners Stephanie Mather and Bryan Engel, will welcome patients to the new Mercy Clinic Family Medicine – Ozark, located at 505 N. 25th Street, near the intersection of Highway 14.
"From the bottom up, there is more room, it's more accommodating and it really gives patients a better experience," Dr. Williams said. "We've been listening to them over the years, and it makes me happy to be able to grow along with our families and friends."
The 13,600-square-foot building includes 24 exam rooms for primary care, lab services, x-ray and plenty of room for future expansion. It also includes a new optical shop and three additional exam rooms. Dr. Matthew Hansen, the clinic's new full-time optometrist, will offer in-network eye care.
"I'm very excited to be back in this community," said Dr. Hansen, a Southwest Missouri native who studied optometry at the University of Missouri – St. Louis. "We'll be offering the full spectrum of eye care needs – from management of diabetes, macular degeneration, glaucoma and cataracts, as well as a one-stop optical shop for contacts or hundreds of eyeglass frames."
"Eye exams can reveal other health issues, so we upload those results into an electronic medical record at Mercy; from there, other specialists can take a look and help you keep your health on track," said Dr. Alan Scarrow, president of Mercy Springfield Communities. "This new clinic will also become a hub for virtual care that reaches far beyond the physical walls of the clinic, improving both access and convenience."
Mercy paid close attention to detail at the new Ozark clinic, incorporating design elements with a nod to Mercy's heritage. A redesigned nurse's station brings more cohesion among the Mercy care team, and gone are the days of phones ringing in the lobby. "Instead, our receptionists will have podiums that aren't behind glass," Dr. Williams said. "They'll be front and center, ready to help patients as they walk through the door."
The automatic glass doors at the entrance are also more user-friendly; in fact, they were requested by some of Dr. Williams' current patients. "Getting in and out of this clinic will be a dream compared to our last location on Jackson Street, which was really wearing down," Dr. Williams said. A majority of the equipment at the 25th Street clinic will also be brand new.
Doors officially open to patients at 8 a.m. Wednesday, July 13. The clinic offers a full range of services for the entire family, including physical exams and sports physicals, treatment of minor injuries, x-rays, childhood immunizations, women's health, lab services, laceration repair and suturing, diagnosis and treatment of skin disorders and more.
Mercy Clinic Family Medicine – Ozark and Mercy Clinic Eye Specialists – Optometry/Optical Shop – Ozark will be open from 8 a.m. to 5 p.m., Monday through Friday, and 9 a.m. to 12 p.m. on Saturday. The optical shop will only be open from 8 a.m. to 5 p.m. Monday through Friday. For more information, call the clinic at 417-581-3548 or eye specialists at 417-820-9393.
Click here for photos.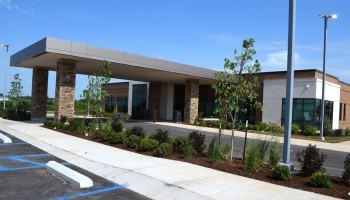 Media Contacts
Sonya Kullmann
Berryville, Branson, Cassville, Lebanon, Mountain View, Rolla, Springfield, Aurora