July 21, 2016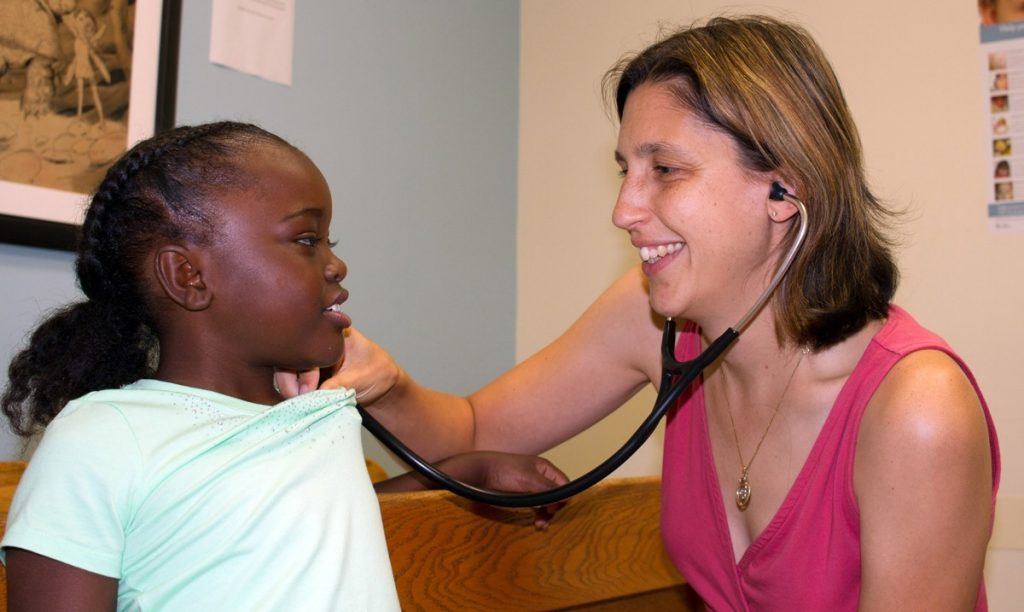 Pediatric Nurse Practitioner of the Year Jen Jacklin with a patient.
ST. LOUIS - Nurse practitioners are an essential part of care teams across Mercy, treating patients in much the same way as physicians. One Mercy pediatric nurse practitioner (PNP) was recently honored as PNP of the Year by the St. Louis chapter of the National Association of Pediatric Nurse Practitioners (NAPNAP), not only for the care she provides her patients but also how she helps in her community.
Jen Jacklin, PNP, has worked with Dr. Santiago Plurad at Mercy Clinic Pediatrics South City for 10 years. She takes extra time with each patient lending a compassionate ear and going out of her way to help a patient or family member.
Taking time off work, Jacklin volunteers weekly at the crisis nursery and Bryan Hill Elementary School. While the volunteer project started through her church, she now works with the St. Louis Public School District to eliminate barriers and provide children well care through check-ups and make sure they are seen for illness either at the school or a clinic. In addition, she helped start a bible study at a church in North County, where she spends one night a week. The program provides children a safe place where they can explore their faith in a group.
Jacklin's colleague and fellow nurse practitioner Carrie Thrasher nominated Jacklin for the honor saying, "Not only is Jen an exceptional PNP, but she is also a super mother to four children and an amazing wife…Jen is an outstanding PNP, an awesome individual and a great role model!"
Dr. Valerie Jolly
Media Contacts
Bethany Pope
St. Louis, St. Charles, St. Louis - South, Troy, Festus