July 28, 2016
Surrounded by family and friends, Hazel Burt of Fort Scott Guest Home Estates, formerly of Uniontown, Kansas, celebrated her 100th birthday on July 25. She was born in rural Uniontown in 1916 to John T. and Hallie Stevens Stone and married her husband Raymond D. (Jerd) Burt on July 7, 1940.
On turning 100, Hazel commented, "Isn't everybody that gets to be 100."
She's lived her life with the same frank honesty and a desire to help others.  She gave friends a ride to church until she was ninety. When she and her husband ran Burt's Store on the square in Uniontown, she watched out for the kids playing in the park. If someone got hurt, she would "fix 'em up" with a bandage and ice cream.
Attention to detail and hard work are trademarks of Hazel's long life. She loves to cook and bake bread. She could not confirm a favorite food. "That's hard. I like everything." Around this time of year, she favors fresh, home grown tomatoes.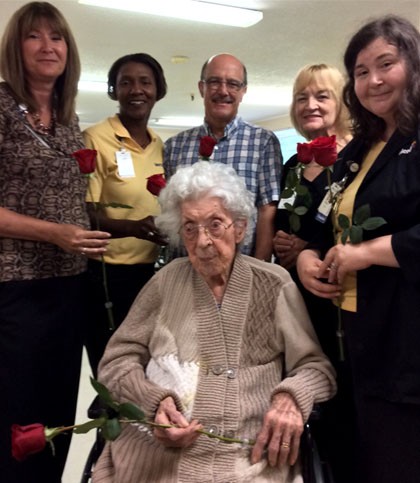 Hazel began working at the Fort Scott Greenhouse in 1954. Back then, they grew vegetables and flowers to sell right there in the store. She sold flowers to visitors of Mercy Hospital, which at that time was across the street. She had a knack for tying a decent bow so she tied the ribbon on every card sold at the greenhouse and made all the bows for the holidays and Christmas, as well as the Old Settlers' Picnic in Uniontown.
Hazel has lived her entire life in Bourbon County, Kansas, apart from trips around the U.S. to visit family.  She likes to fly and has "been a lot of places"-  Oregon,  Georgia, Cleveland, both sides of Niagara Falls, Nova Scotia and New Orleans to name a few. Her son-in-law, Andy Reese, recalls Hazel always went out on a ledge to take a good look around.
A sense of adventure is certainly good advice for life. Hazel also recommends that everyone wanting to reach 100 years "live day by day. And be sure to stop and smell the flowers!"
Media Contacts