July 28, 2016
Alan Drake is an active 68-year-old who won't let retirement slow him down. His medical history is excellent and shows no risk factors for stroke, but on the night of January 30, 2015, Alan survived a stroke. Today he has no after effects, thanks to timely administration of the clot-buster drug called tPA.
Alan was at a Fort Scott High School basketball game the night he noticed involuntary movement in his right arm and his thinking "was a little off."
"Even though I knew my surroundings, things were hazy and I couldn't think clearly," he explained.
His wife, Billie Jo, noticed his actions weren't normal, too. She had witnessed her mother have a stroke and was paying close attention to Alan's body movement, facial expressions and speech.
By the end of the game, it was clear Alan needed more help than Billie Jo alone could handle. A school official called 9-1-1 and several people with medical experience rushed to Alan's side. 
When Alan arrived at Mercy Hospital Fort Scott, Dr. David Parris and the emergency department team quickly assessed him and ordered a CT scan.  It was then that the team utilized Mercy's telemedicine program for a second set of eyes to make the diagnosis. A neurologist hundreds of miles away made the final assessment through a computer monitor and gave the order to give Alan tPA. Within about an hour, Alan could think more clearly and make sense of things that were fuzzy just a couple hours prior. Alan was transported by helicopter to a hospital that specializes in stroke care and dismissed just four days later.
This form of lifesaving stroke care is called Telestroke. It's just one piece of Mercy's telemedicine program that virtually puts trained specialists into exam rooms using a highly-specialized computer, super zoom camera and two-way communication.
"The beauty of Telestroke is that we are able to deliver lifesaving care when seconds matter most in communities where a specialist, like a neurologist, isn't always available," explains Dr. Chris Veremakis, Medical Director for Mercy's Center for Innovative Care. "Through the use of technology, we can connect patients and highly-skilled providers in the same room to create excellent outcomes."
According to the U.S. Centers for Disease Control, stroke is the leading cause of long-term disability in the U.S. Every year, more than 795,000 Americans suffer a stroke.
It's been almost 18 months since Alan's stroke and he and Billie Jo just celebrated their 47th wedding anniversary.
"I have back the same guy I had before," Billie Jo said. "Fortunately, I was aware of the signs of stroke. I think that made the difference in Alan being able to share his story and making a full recovery instead of having lingering effects."
Alan's advice: "It's up to the people around the stroke victim to take action because for the person suffering from a stroke, it's difficult to understand what's happening or to communicate your needs.
Know the signs of stroke, and don't wait to get help. Time is crucial. If a stroke goes untreated beyond two or three hours, it could be too late."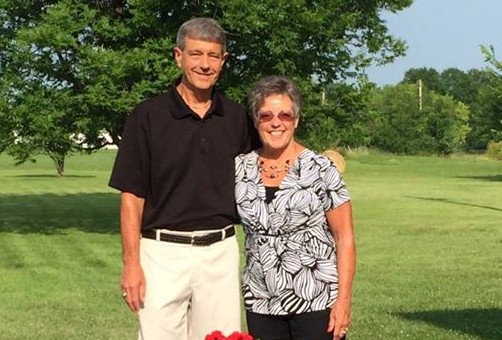 Media Contacts