July 29, 2016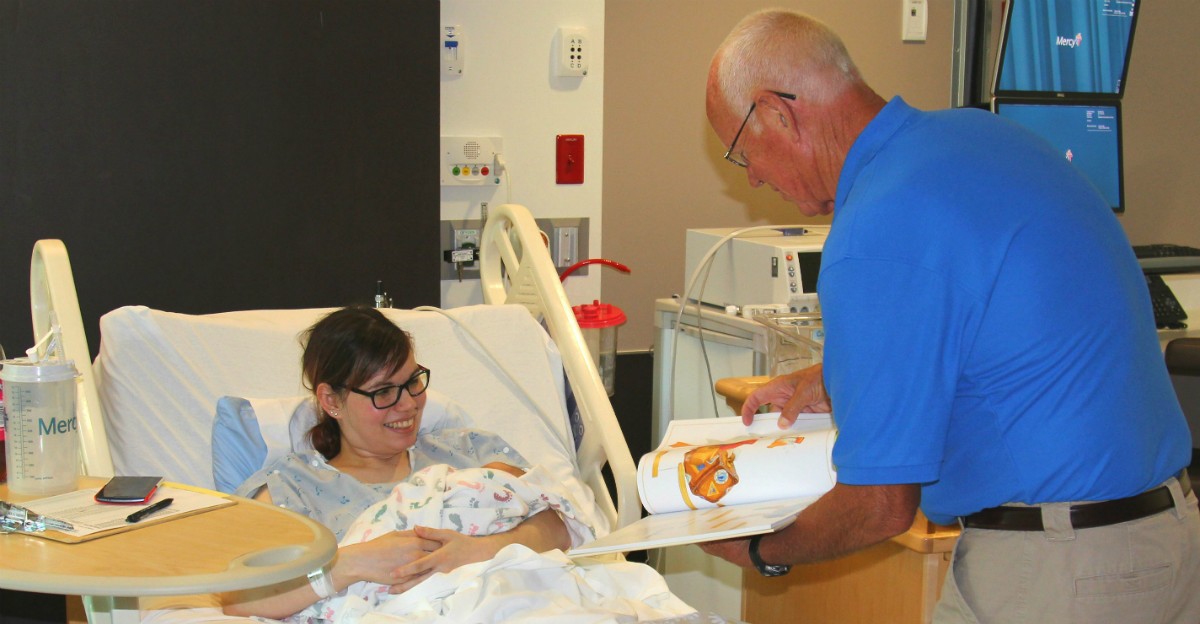 The Carthage Family Literacy Council wants to spread its message and books beyond the city and is starting at Mercy Hospital Joplin.
As Carthage mother Megan Lindsey recently held son Kylo just 12 hours after his birth, she was presented with the first Mother Goose nursery rhyme book being donated to all moms and newborns at the hospital's birthing center.
"We hope you'll get started right away reading to your baby," Larry Hartman of the council said as he gave the book to the new mother.
The literacy council donated the first 100 books, which will last about a month, and plans to replenish supplies as needed at the hospital. About four years into the program, the goal is to donate books for moms to read to their newborns and toddlers, as well as provide "indestructible books" for babies once they can sit up and toddler workbooks with easy-to-turn pages, according to Mary Kirby of the council.
"We're trying to get more and more books donated beyond Carthage," Kirby said. "It's very important that every child be read to."
Kirby noted that children who are exposed to reading starting at birth will have a head start toward learning to read.
"We highly encourage parents to read to their children at a very young age to help prepare them for kindergarten," she said. "The sooner reading starts, the better off they will be. The more words they are accustomed to hearing, it just makes more sense on the printed page when they get ready to read. It increases their vocabulary, a key focus of learning."
The literacy council seeks donors and holds fundraisers to raise money to purchase books. To contact the council, call 417-358-5926.
Media Contacts