August 3, 2016
For over a decade, Bourbon County - where Mercy Hospital Fort Scott is located - has ranked in the bottom 10 percent for Kansas county health rankings. Initiatives have been underway to change that status, but thanks to the Pathways to the Healthy Kansas Community grant from Blue Cross and Blue Shield of Kansas, funds needed to make sustainable change are now available.
Last week, it was announced that Bourbon County will receive a $100,000 grant and access to $215,000 in additional funding over a three year period.
"Through the grant, our Healthy Bourbon County Action Team will have access to necessary expertise and resources to really make a difference in the overall health of our citizens for the long term," said Dave Martin, Fort Scott city manager. 
During the next three years, members of the Healthy Bourbon Action Team will lead the community in these efforts.
The team consists of leadership from Mercy Hospital, USD 234, USD 235, City of Fort Scott, Fort Scott Community College, Bourbon County, K-State Extension Office, SEK Multi County Health Department, local restaurant owners, entrepreneurs and faith-based organizations. The team will focus on strategies to create community wide well-being and healthy environments, with particular emphasis on diabetes, congestive heart disease and lung disease.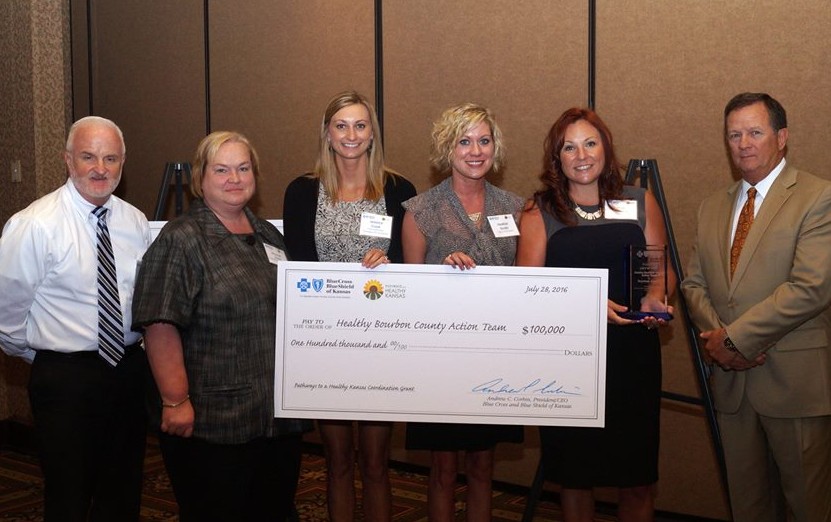 The goal is to cultivate a healthy culture by working through health care providers, schools, worksites, food establishments and more to incorporate additional opportunities for Bourbon County citizens to be healthy in their everyday lives.
"We want to work closely with Healthy Bourbon County Action Team to inspire long-lasting, community-wide well-being, focus on strategies that build community engagement and transform the way residents stay healthy as they work, play and interact socially," said Virginia Barnes, MPH, director of Blue Health Initiatives and developer of the grant program. "We want to help Bourbon County become a place where the healthy choice is the easy choice to make, cultivating a healthy culture now and for future generations to come."
Media Contacts