August 4, 2016
The latest rankings out today prove, once again, that people in the Ozarks don't need to travel far to get the best care.
U.S. News & World Report just released its annual "Best Hospitals" list, and Mercy Hospital Springfield is the only area hospital to make the top 10 list in the state, coming in at number 5. It's listed as a "Best Regional Hospital" and is recognized as high-performing in treatment related to:
Abdominal Aortic Aneurysm Repair
Chronic Obstructive Pulmonary Disease
Colon Cancer Surgery
Heart Failure
Hip Replacement
Knee Replacement
Lung Cancer Surgery
Scores are based on a variety of patient outcomes and care-related factors, such as patient safety and nurse staffing.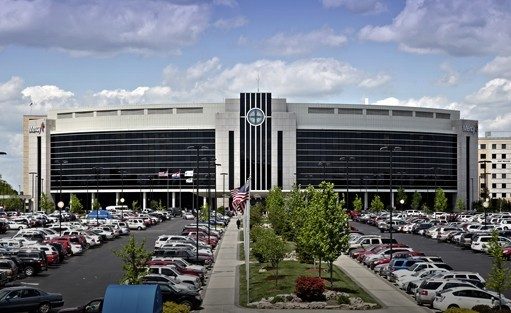 This recognition comes on the heels of a similar honor. Truven, an IBM company, recently named Mercy as one of the top five large health systems in the nation, alongside Mayo. Truven's study uses objective, independent research and public data sources. Health systems do not apply for consideration, and winners do not pay to market their award.
In that analysis, Mercy outperformed peers in the following ways:
Saved more lives and caused fewer patient complications
Readmitted patients less frequently and experienced fewer deaths
Lower cost of care
Shorter wait times in emergency departments
Shorter hospital stays
Better patient safety
Higher patient satisfaction
"These recognitions are really about the excellent care our co-workers provide to our patients and their families every single day," said Dr. Alex Hover, Mercy senior vice president for clinical excellence. "Our physicians, nurses and all our co-workers strive every day to make our community healthier. We will continue to work to deliver even better and safer care in the years to come."
Mercy Springfield Communities is comprised of Mercy Hospital Springfield, an 866-bed referral center; an orthopedic hospital; a rehab hospital; a children's hospital; five regional hospitals in Lebanon, Aurora, Cassville, Mountain View, Missouri and Berryville, Arkansas; and Mercy Clinic, a physician clinic with nearly 700 doctors and locations throughout the region. It is part of Mercy, named one of the top five large U.S. health systems in 2017 by Truven, an IBM Watson Health company. Mercy serves millions annually and includes 43 acute care and specialty (heart, children's, orthopedic and rehab) hospitals, more than 700 physician practices and outpatient facilities, 40,000 co-workers and more than 2,000 Mercy Clinic physicians in Arkansas, Kansas, Missouri and Oklahoma. Mercy also has outreach ministries in Louisiana, Mississippi and Texas. 
Media Contacts
Sonya Kullmann
Branson, Cassville, Lebanon, Mountain View, Rolla, Springfield, Aurora