August 9, 2016
Paden Norrick has always loved sports. That passion led him to a doctorate degree in physical therapy, a career in sports medicine with Mercy, and a trip to Brazil earlier this year to help those in need.
A good friend of his, with a similar interest in sports, is in the same South American country this month, but Brittany Borman has a different mission in mind. She will compete in the Women's Javelin event beginning on Aug. 16, and Paden will be watching his classmate closely.
Brittany and Paden are both 2008 graduates of Festus High School, and their friendship goes back to pre-school daycare at the First Baptist Church of Festus and Crystal City.
"I walked with her at graduation, and we were really good friends growing up," Paden said. "I played baseball and football against her in fourth and fifth grade. She was a heck of a football player and extremely fast. She used that speed in baseball too and would bunt and steal bases all the time."
Her strength and speed led Brittany to stardom with the Jefferson County Jets Track Club, the University of Oklahoma, and as a member of the USA Olympic team in 2012 and this year. While Brittany continues to follow her track and field dreams, all the way to Rio de Janerio, Paden took his sports passion to University of Missouri – Columbia and then to Southwest Baptist University in Bolivar, Missouri, where he earned his doctorate degree in physical therapy.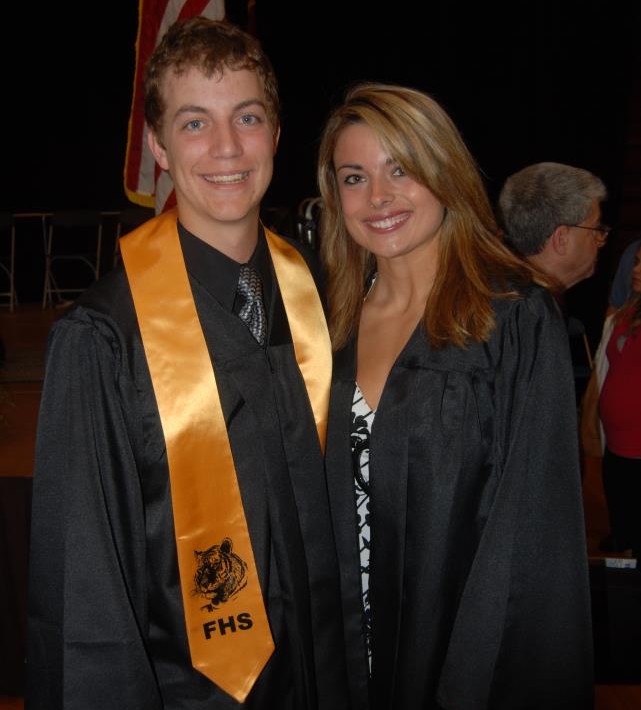 It was his connection to Southwest Baptist that sent Paden to Brazil this spring. Along with a team of university students and alumni, two dentists and a doctor, he traveled to remote areas of the country to provide free medical services to those in need.
"In March, I spent a week on a medical mission boat on the Amazon River in Brazil," Paden said. "Most people in the villages live in small wooden houses with thin plywood walls and a few windows cut in them for air."
Nurses triage the patients and assign them to the surgeon, dentists, or physical therapists. Paden and another recent graduate of SBU led a group of therapy students in providing services to about 15 patients a day in a clinic set up on the first floor of the boat. The upper deck of the boat provided living quarters for the missionaries.
"It is amazing to see people come together for one purpose and to have so much fun serving others," Paden said. "I feel blessed to have the opportunity to go to another country to serve, and I'm blessed to be able to return to my country. Our problems here are nothing in comparison."
Every day at Mercy Therapy Services Imperial, Paden helps patients recover from sports injuries, and he assists a lot of non-athletes looking for pain relief or improved function.
"I never know who and what condition is going to walk through the door when I am treating patients on the boat. Here at the clinic, I see the referral, but really I don't know anything about that person. No two people or conditions are ever the same. You have to treat that person uniquely because they are unique," Paden said. "Patient education is a lot of my job. If I can educate PT students, a translator, and a dozen Brazilians a day, I should be able to educate one American patient on what is going on with their body and how they move."
Because of his experience with residents along the Amazon River, Paden is watching the Olympics with an open heart for the host country, but his personal cheering interest is for the USA and one particular team member in red, white and blue. Along with hundreds of others in southern Jefferson County who have seen Brittany accomplish so much already, we will be watching and cheering when the preliminary rounds begin Aug. 16.
Media Contacts