August 16, 2016
The three partners in Northwest Arkansas' new community internal medicine residency program celebrated a $750,000 gift from the Walmart Foundation on Aug. 11.
The gift will help cover costs for the new residency program for two years, said Dr. Steve Goss, president of Mercy Clinic Northwest Arkansas.
The residency program is based at the University of Arkansas for Medical Sciences northwest Arkansas campus in Fayetteville. The residents also do clinical rotations at Mercy Hospital Northwest Arkansas in Rogers and Veterans Health Care System of the Ozarks in Fayetteville.
The first eight resident physicians in the three-year program started June 30. It's expected to grow over the next two years until there are 24 residents by 2018.
Director of the program, Dr. Thomas K. Schulz, said the new residents were selected in part because they were a great fit for a program getting off the ground.
"We wanted pioneers and that's what we got," said Schultz, an associate professor in the UAMS College of Medicine's Department of Internal Medicine.
Both Goss and Schulz have said the program's ultimate goal is to recruit and train physicians who will stay in Northwest Arkansas.
Julie Gehrki, senior director of the Walmart Foundation, said foundation leaders understand the importance of job training and education in recruiting and retaining top medical talent.
"We are very proud to support this partnership and help advance great physicians seeking a meaningful career in healthcare," she said.
Residents are trained in a variety of internal medicine subspecialties including critical care medicine, cardiology, emergency medicine, geriatric medicine, gastroenterology, oncology and pulmonary disease.
The residents are:
• Sonia Chaudhary, M.D., University Medical & Dental College Faisalabad in Faisalabad, Pakistan
• Chris Finlay, M.D., UAMS
• Nhanmy Huynh, M.D., St. George's University School of Medicine in Grenada, West Indies
• Naveen Kallarackal, M.D., Ross University School of Medicine in Portsmouth, Commonwealth of Dominica
• Matthew Neoh, M.D., UAMS • Mark Shelnutt, M.D., UAMS
• Kristopher G. Stepps, M.D., UAMS
• Michelle Valentine, M.D., Rocky Vista University College of Osteopathic Medicine in Parker, Colo.
In addition to Goss, Schulz and Gehrki, attendees at the Aug. 11 announcement included Eileen Hyde, senior manager, sustainability, Walmart Foundation; Dina Wood, director of advancement, UAMS' northwest Arkansas campus; Clark Ellison, regional vice president, Mercy Health Foundation; and Bryan Matthews, director, Veterans Health Care System of the Ozarks.
Matthews said VA trains health professionals across the nation and the partnership with UAMS and Mercy continues that.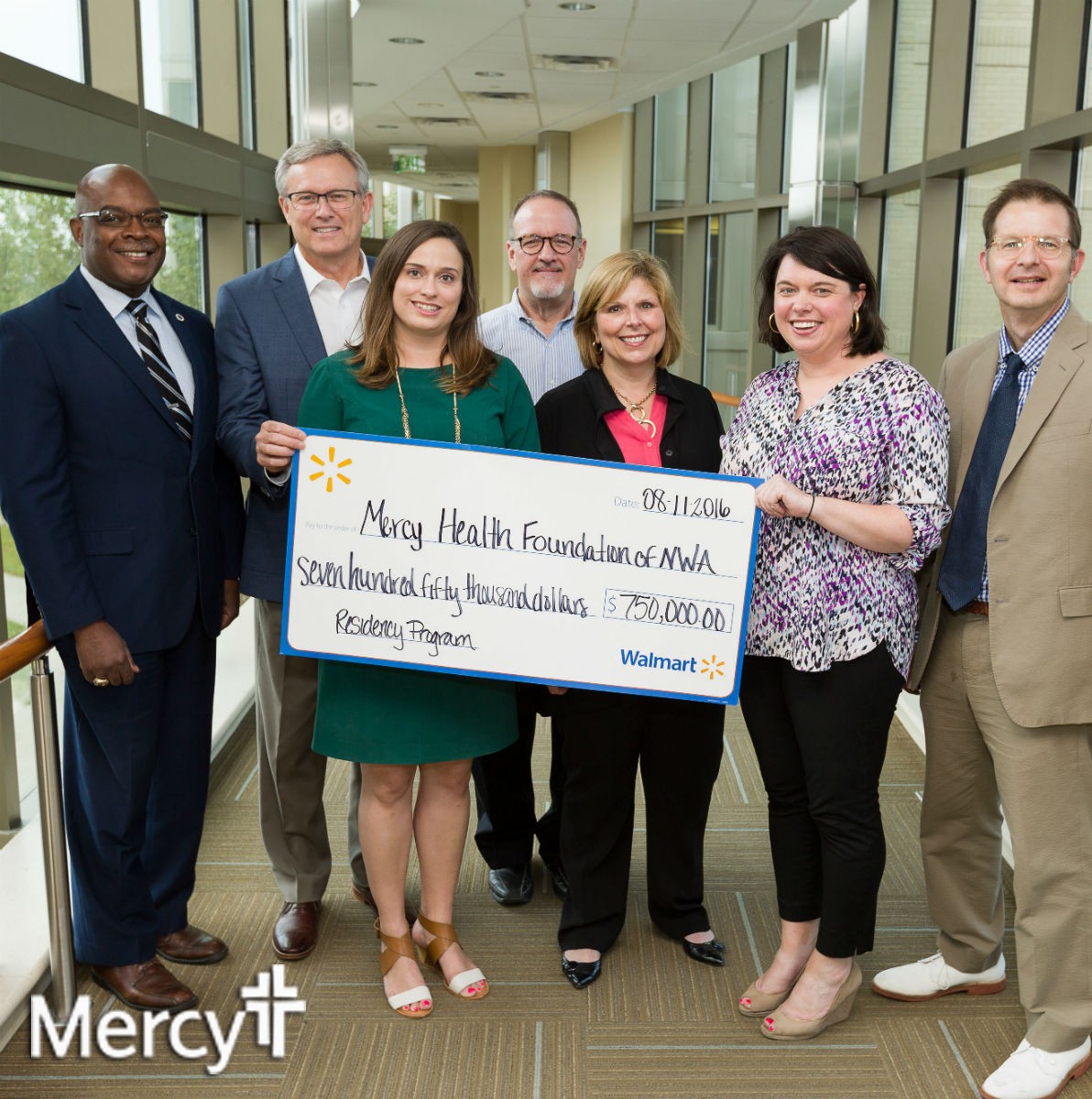 Media Contacts