August 17, 2016
The staff on Fifth Floor West was proud to receive a special acknowledgement from the Jefferson College nursing program. The certificate was presented by Jefferson College Director of Nursing Linda Boevingloh and clinical instructor, Holly Boettcher.
"Jefferson College's longstanding clinical partnership with Mercy Hospital Jefferson has been a gateway for providing professional training to our second-year student nurses," Boevingloh said. "The success of the Dedicated Education Unit (DEU) at the hospital is due in large part to the excellent staff on the fifth floor who play a supportive role in the medical-surgical teaching/learning process surrounding patient care. Our clinical instructor, Holly Boettcher, and students are extremely appreciative of the informative and collaborative environment that exists thanks to the professionalism of Mercy Hospital Jefferson nurses and staff."
The partnership between the hospital and the college's nursing program is significant in many ways, said Sam Temperato, RN, MSN, nurse manager for Fifth Floor West and the Mercy Surgical Hospital.
"Our co-workers take tremendous pride in their role assisting and mentoring future generations of care givers for our community," Temperato said. "We greatly appreciate the acknowledgement of our nurses and staff by Jefferson College. It means a lot."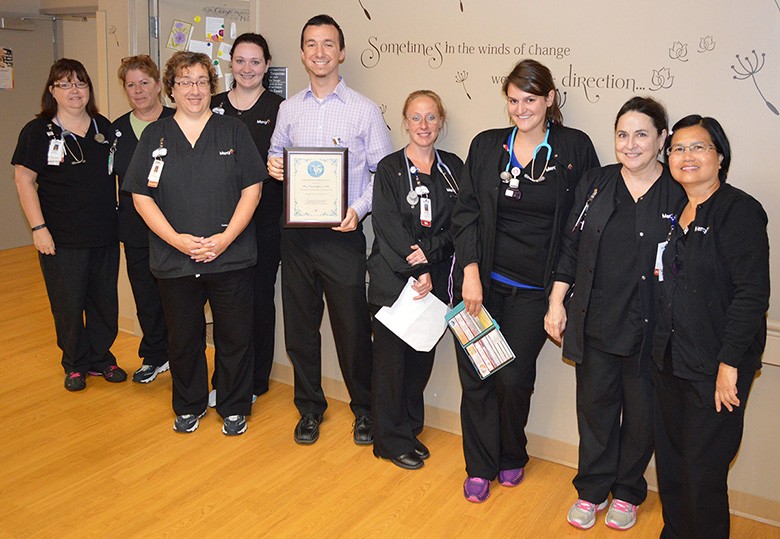 Fifth Floor co-workers pictured with the recognition are Chris Bartles, Pam Shuh, Ann Devine, Brittani Thurman, Sam Temperato, Amanda Hornbeck, Megan Moore, Kristie Lowery and Joy Blessing.
Media Contacts