August 24, 2016
Registered nurse Elena May Plaza is well-recognized on the third floor, caring for mothers and new babies, but an event earlier this year displayed her skills and compassion in a different hospital department.
Elena's response in a medical emergency may have saved two lives. It also earned her the quarterly DAISY Award, based on a nomination from Emergency Department charge nurse Polly Muehlberg.
"Not only did Elena come to the ER to assist us in a critical situation, she came with a positive attitude," Polly wrote in the nomination. "She was encouraging and taught the staff how to work with the fetal monitor. She consulted with (OB/GYN physician) Dr. Will Snidle and collaborated with the ER staff. The patient was taken to the OR for an emergency cesarean section."
Mother and baby were taken to the third floor following surgery and recovered under the watchful eyes of Elena and the Woman and Child Center staff.
Polly concluded her nomination with a comment about Elena's skill and approach. "Elena is a wonderful, knowledgeable, non-judgmental nurse and the emergency department greatly appreciates her assistance."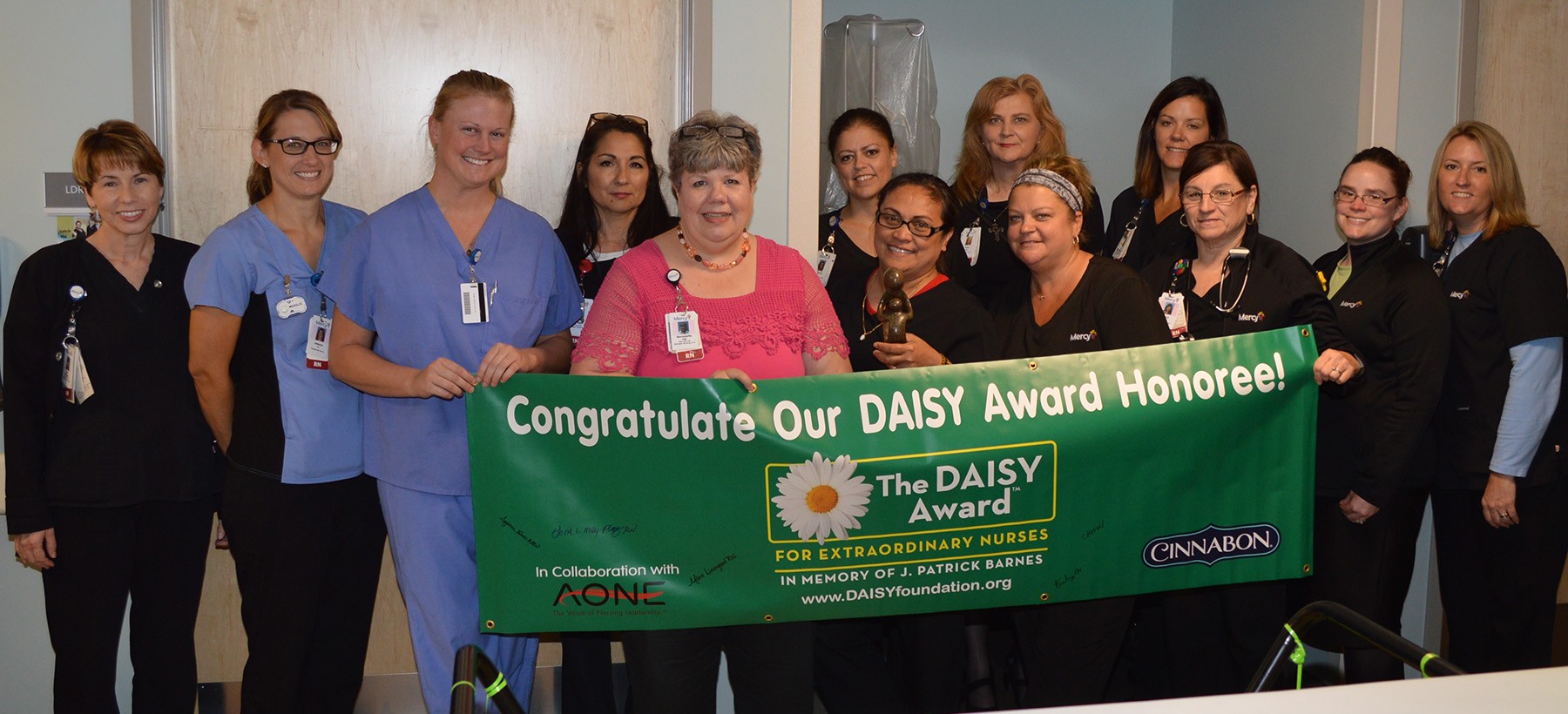 Elena's DAISY Award nomination was selected from more than 60 submitted by patients, visitors or co-workers over the past three months.
DAISY is an acronym for Diseases Attacking the Immune System. The family of Patrick Barnes established the Daisy Foundation in 1999 to express gratitude to nurses for the work they do for patients and their families every day. The award is presented in more than 1,900 healthcare facilities in all 50 states and 15 countries.
During the recognition ceremony, surrounded by her co-workers, Elena received an official DAISY pin, a certificate, and a hand-carved stone sculpture entitled "A Healer's Touch." Additionally the national award calls for a celebration for all co-workers in the unit with Cinnabon cinnamon rolls – a favorite of Patrick's during his illness.
"The Barnes family asks that whenever and where ever nurses smell that wonderful cinnamon aroma, they stop for a moment to think about how special they are."
For more information visit www.daisyfoundation.org.
Media Contacts