August 25, 2016
More than 250,000 people die every year from sepsis, but less than one-third of Americans can correctly identify the symptoms, according to a new national study.
Sepsis occurs when the body has an extreme response to an infection that has spread throughout the blood and tissues. Severe sepsis, known as septic shock, is a life-threatening condition that can affect any part of the body including the heart, brain, liver and kidneys. 
"Septic shock is just as serious as a heart attack or a stroke," said Tiffany Means, emergency department inpatient manager at Mercy Hospital Cassville. "If it's caught late, that poses a major challenge, because it's likely already spread to other organs."
Sepsis can strike anyone, but it's more common in infants and older adults, and 80 percent of cases are developed outside the walls of a health care facility.
"We've seen a spike in sepsis cases recently, so awareness and education is very important," Means said. There isn't one single symptom of sepsis, but rather a combination of any of the following:
Shivering, fever, or low body temperature
Rapid breathing or heartbeat
Decreased urination
Clammy or sweaty skin
Confusion or disorientation
To put an even brighter spotlight on sepsis, Mercy Hospital Cassville's nursing department is teaming up with a handful of community health agencies to host the 1st annual Jennifer Dougherty 5k Run / 1 Mile Fun Walk on Saturday, Oct. 1, outside the hospital (94 Main St.).
"Jennifer was a great friend and loved by many in the community," Means said. "Along with her family, we wanted to honor Jennifer's memory, but also highlight how sepsis can take a life so quickly."
Registration has begun for the Oct. 1 event. Click here for more information. Adult admission is $20; students and seniors are $15. Anyone who registers before Sept. 10 will be guaranteed a t-shirt, but they'll also be available for purchase at the event. Packet pick-up is Sept. 30 from 5 to 7 p.m. or Oct. 1 from 6:30 to 7:30 a.m. at the hospital.
"We're so excited to have local organizations and educational opportunities join us on race day," Means said. "The outpouring of support from the community has been great."
All proceeds from the Oct. 1 fundraiser will go toward nursing scholarships at Crowder College, as well as a memorial garden at Mercy Hospital Cassville, all in Jennifer's honor. For more information about the event, contact Tiffany Means at 417-847-1459 or Tiffany.Means@mercy.net.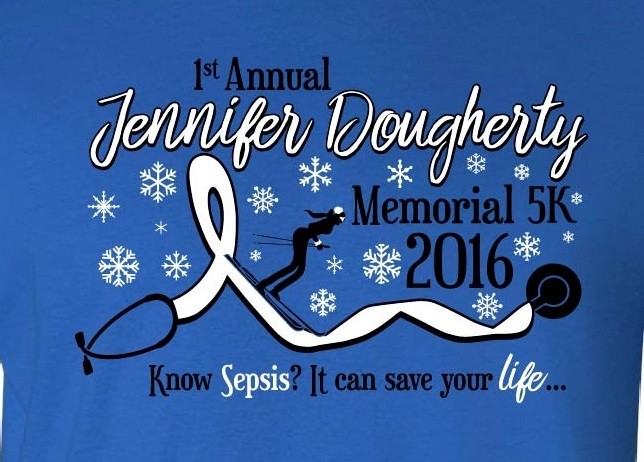 Media Contacts
Sonya Kullmann
Berryville, Branson, Cassville, Lebanon, Mountain View, Rolla, Springfield, Aurora